Here's A Fully in-depth analysis of the two most famous brands of Soundbars named LG And Vizio. We have compiled an explained guide for the ease of you guys to make the right choice from these bars at the right time.
Basically, The Vizio Elevate seems to be a more efficient soundbar than the LG soundbars because of the latest and premium features and characteristics that will result in really good audio quality.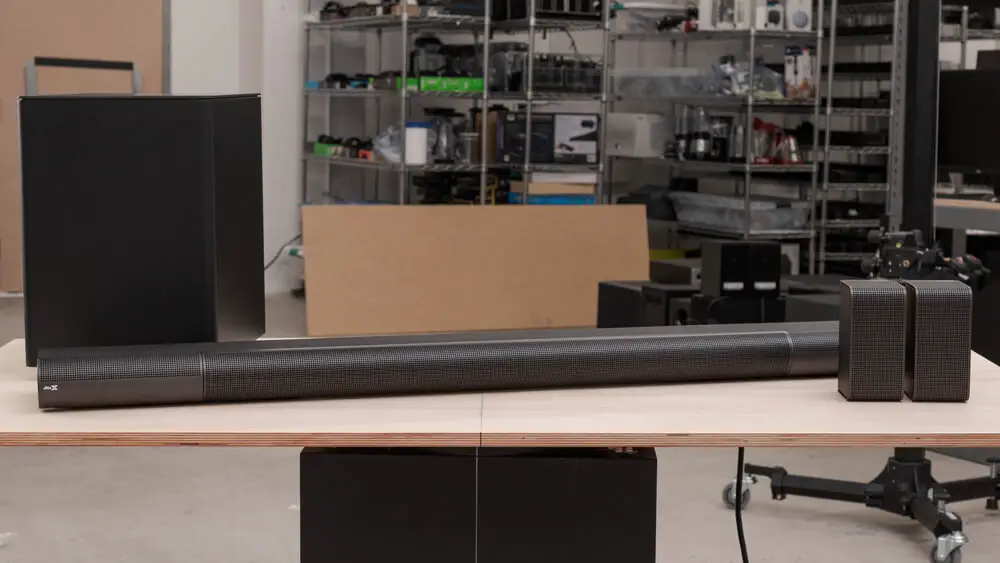 Allow me to discuss all these factors in detail with some best soundbars of both brands so that you can get the incredible one for your audio system. So, let's get into it!
Top Notch LG Soundbar – Amazing Collection They Have!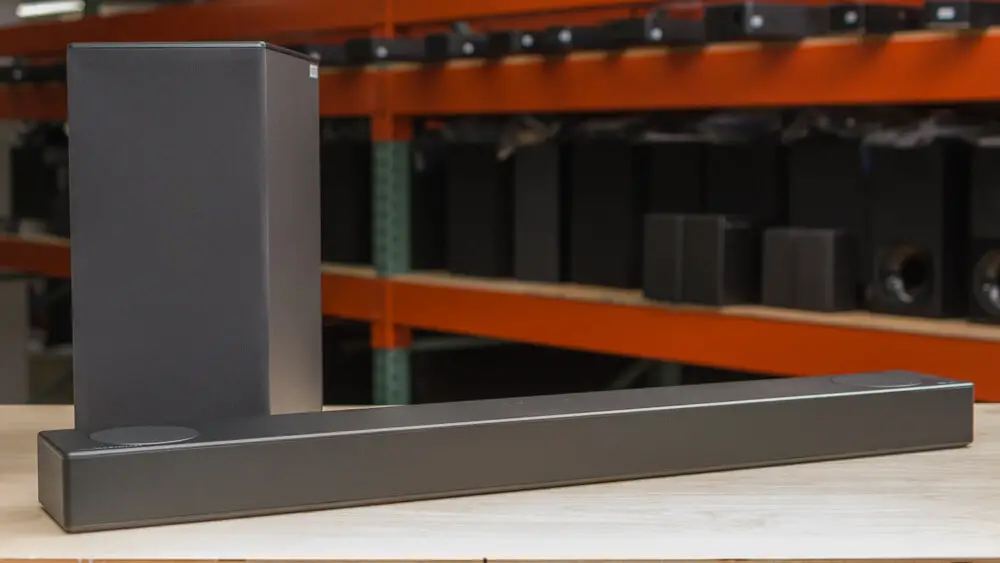 LG SPM7A:
One of the best LG soundbars includes the LG SPM7A which is a great budget-friendly option without compromising on audio quality. 
It may not have all the advanced features of its high-end counterparts, but it offers impressive performance for its price range. Check this detailed Review of the LG SPM7A soundbar we've compiled for you.
Features:
3.1.2 channels for a balanced surround sound experience, providing clear dialogue and immersive soundscapes.
Adaptive Sound Control for real-time audio adjustments, ensuring optimal sound regardless of your room's acoustic characteristics.
Wireless rear speakers for enhanced immersion, immersing you in a surround sound experience without messy cables.
Bluetooth streaming for seamless music playback, allowing you to wirelessly connect your devices and enjoy your favorite tunes.
Specifications:
Channels: 3.1.2
Total Power: 380 W
Connectivity: HDMI ARC, Bluetooth, Optical
Dimensions: Sound Bar (WxHxD) = 354″ x 2.6″ x 4.7″
Price: 
One of the great specifications of the LG SPM7A is that the LG SPM7A offers great value for its price, making it an attractive choice for those seeking a quality soundbar without breaking the bank. This soundbar is a really budget-friendly and cost-effective thing.
LG SN9YG:

We know that LG has long been synonymous with innovation in the audio industry, and the LG SN9YG is a prime example. 
This premium soundbar boasts exceptional audio quality, but what truly sets it apart is its customizable sound settings. 
With an array of sound profiles and equalizer adjustments, you can tailor the audio output to match your preferences, whether you're watching movies, gaming, or listening to music. 
Read our detailed article on the Best Settings Of The LG SN9YG Soundbar for enhancing the sound quality from it. 
Features:
You'll have Dolby Atmos and DTS:X support an immersive 3D sound experience that surrounds you with audio from all directions.
A High-Resolution Audio for clear and detailed audio reproduction, bringing out the nuances in your favorite music and movies.
This soundbar has AI Sound Pro for automatic audio enhancement based on content, ensuring optimal sound settings for different media types.
Wireless subwoofer for deep and powerful bass, delivering rumbling lows that add impact to explosions and cinematic soundscapes.
Another factor that'll increase the quality of this bar is the Built-in Google Assistant and Alexa for voice control that allows you to adjust settings, play music, and control smart home devices with ease.
Specifications:
Channels: 5.1.2
Total Power: 520W
Connectivity: HDMI eARC, Bluetooth, Wi-Fi
Sound Bar (WxHxD): Width = 48.03″ Height = 2.2″ Dimension = 5.7″
Price:
Now, if we talk about the price of this LG soundbar, then The LG SN9YG comes with a premium price tag, but it's feature-rich design and impeccable audio performance make it a worthwhile investment for audiophiles and home theater enthusiasts.
The pricing range of the LG SN9YG soundbar depending upon the location you're delivering to and the online store.
LG SP7R 7.1 Soundbar: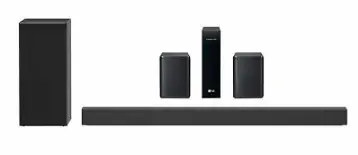 For a truly cinematic experience, the LG SP7R 7.1 Soundbar is a powerhouse that delivers impressive audio performance. 
With a comprehensive speaker setup and advanced technologies, it aims to transform your living room into a home theater. Here we've inserted the link to the Detailed Review Article Of The LG SP7R 7.1 Soundbar.
Features:
7.1 channels for immersive surround sound, creating a theater-like audio environment in your own home.
Meridian Audio technology for enhanced clarity, ensuring that every sound detail is faithfully reproduced.
Rear speakers and subwoofer for full-room coverage, distributing sound evenly for a captivating experience.
AI Room Calibration for optimized audio output, fine-tuning the soundbar based on your room's acoustics.
Specifications:
Channels: 7.1
Total Power: 580 W
Connectivity: HDMI eARC, Bluetooth, Wi-Fi
Sound Bar (WxHxD) Dimensions: 39.4″ x 2.5″ x 4.1″
Price:
The LG SP7R comes at a higher price point, but its premium features and outstanding audio quality make it a top-tier choice for audio enthusiasts.
Some Of The Best Vizio Elevate Soundbars – Let's Take Analysis With Me!
Vizio Elevate™ 5.1.4 Home Theater Sound Bar with Dolby: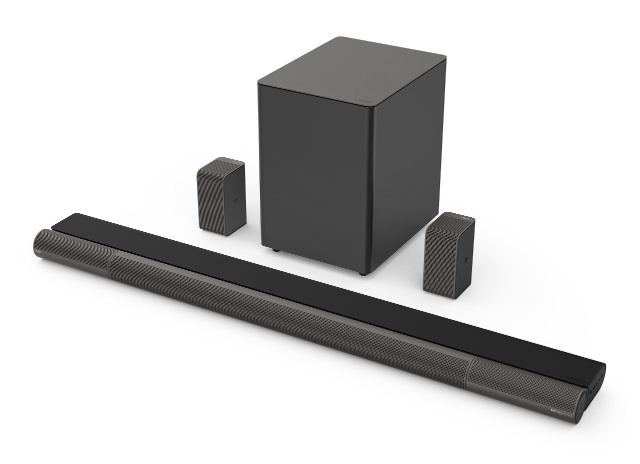 Now, If we talk about the elevate soundbars, Then the Vizio Elevate is a game-changer when it comes to soundbars. 
Because, Its unique rotating speaker design allows the soundbar to automatically adjust its audio output based on the content you're watching, providing a truly immersive experience.
Isn't amazing? Let me enlighten some other impressive features of the Vizio Elevate.
Features:
Dolby Atmos and DTS:X support for multidimensional sound, transporting you into the heart of the action.
Rotating speakers for adaptive audio based on content, directing sound to match the on-screen action.
Wireless subwoofer and rear speakers for robust bass and surround effects, creating a dynamic soundscape.
Voice Assistant compatibility for hands-free control, enabling you to control the soundbar with your voice.
Specifications:
Channels: 5.1.4
Total Power: 107dB
Connectivity: HDMI eARC, Bluetooth, Chromecast built-in.
Price:
The Vizio Elevate is positioned in the mid-to-high price range, offering a unique feature set and exceptional audio performance that justifies its cost.
Vizio Elevate (P514a-H6) Sound Bar with Dolby Atmos: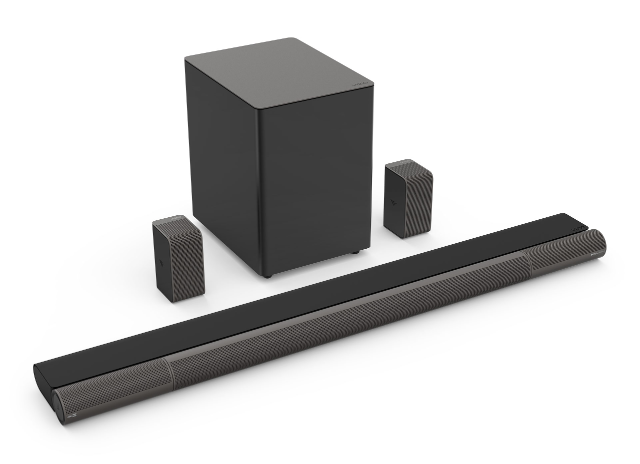 Another best option you'll have in the Vizio Elevate soundbar is the Vizio Elevate (P514a-H6) Sound Bar, which is a way more budget-friendly option from the Elevate series as compared to the LG soundbar. 
While it may not have the rotating speaker design, it still delivers impressive audio quality and Dolby Atmos support. However, it's a bit expensive bar.
Features:
Dolby Atmos for immersive soundscapes, recreating audio in 3D space for a truly captivating experience.
Adaptive Sound Control for optimized audio in any environment, adjusting sound settings based on the room's acoustics.
Bluetooth and Wi-Fi connectivity for seamless streaming, allowing you to connect and control your devices wirelessly.
Compact and sleek design to fit any space, blending effortlessly into your home theater setup.
Specifications:
Channels: 5.1.2
Total Power: 105dB
Connectivity: HDMI eARC, Bluetooth, Wi-Fi
Price:
The Vizio Elevate P514a-H6 offers a budget-friendly option as compared to the other elevate soundbars for those seeking Dolby Atmos support without compromising on audio performance.
So, That was a proper guidebook over the best soundbars you can have from these brands. Now, Allow me to compare these soundbars for coming to the point of making a purchase of the right perfect soundbar.
Comparing The LG And Vizio Elevate Soundbars – Let's See Which One Is Better!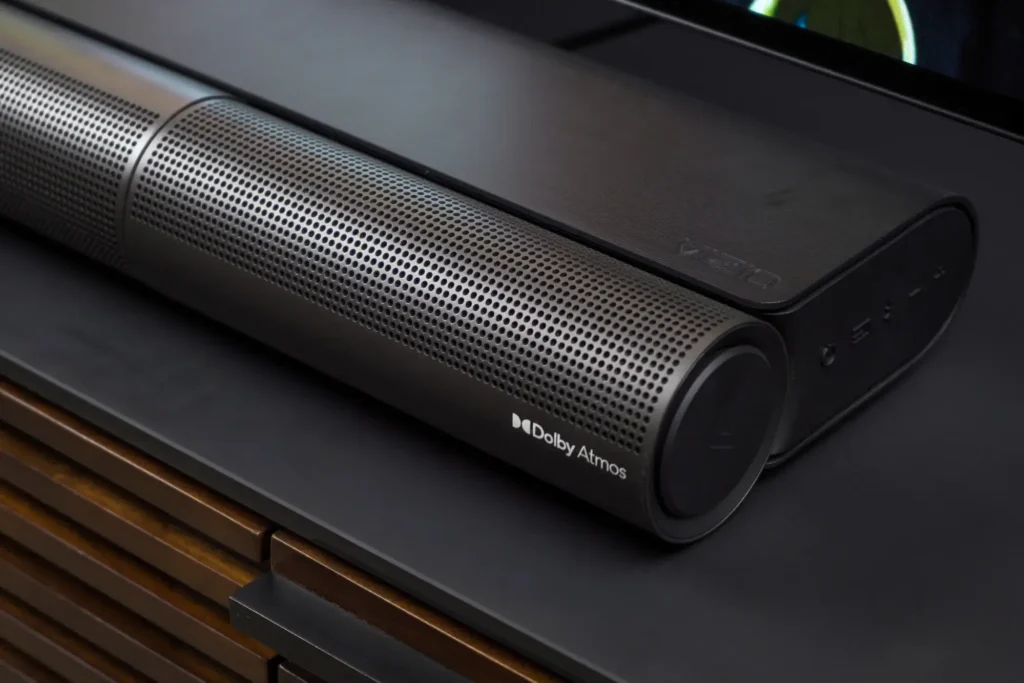 So, we have put forward some of the best LG soundbars and Vizio Elevate soundbars, from which you can take an idea of which bar provides more quality. But for more clearance, we are comparing some factors between these soundbars. So, just check this information here;
First Of All, Check The Connectivity Options Comparison: Both LG and Vizio Elevate soundbars offer multiple connectivity options, including HDMI eARC, Bluetooth, and Wi-Fi, allowing you to connect various devices effortlessly.
Next, Take An Analysis Of The Features Comparison: LG soundbars excel in their AI Sound Pro and Meridian Audio technologies, while Vizio Elevate's rotating speaker design sets it apart, providing a dynamic audio experience. Both these characteristics are worthy and impressive.
The Major Factor That Everyone Consider Is The Price Range: As we've mentioned earlier, Price is the main factor here. So, LG offers a range of soundbars at different price points, catering to various budgets and requirements.
On The Other Hand, Vizio Elevate soundbars are positioned in the mid-to-high price range, offering advanced features for their cost. In simple words, It's a bit more expensive than LG.
AI Compatibility: Now go for AI compatibility. Basically, the LG soundbars come with built-in Google Assistant and Alexa, whereas Vizio Elevate soundbars support voice assistants for convenient hands-free control.
Never Forget The Audio Performance: LG offers advanced audio technologies like Dolby Atmos and Meridian Audio, providing immersive 3D sound and enhanced clarity.
Versus Vizio Elevate's rotating speakers and Dolby Atmos support create a unique audio experience with sound directed to match the on-screen action.
Design and Size: LG soundbars come in various sizes and designs to match different TV setups and room aesthetics.
Vizio Elevate soundbars boast a sleek and compact design, blending seamlessly into any home theater environment.
Which One Should We Buy? – Our Recommendations: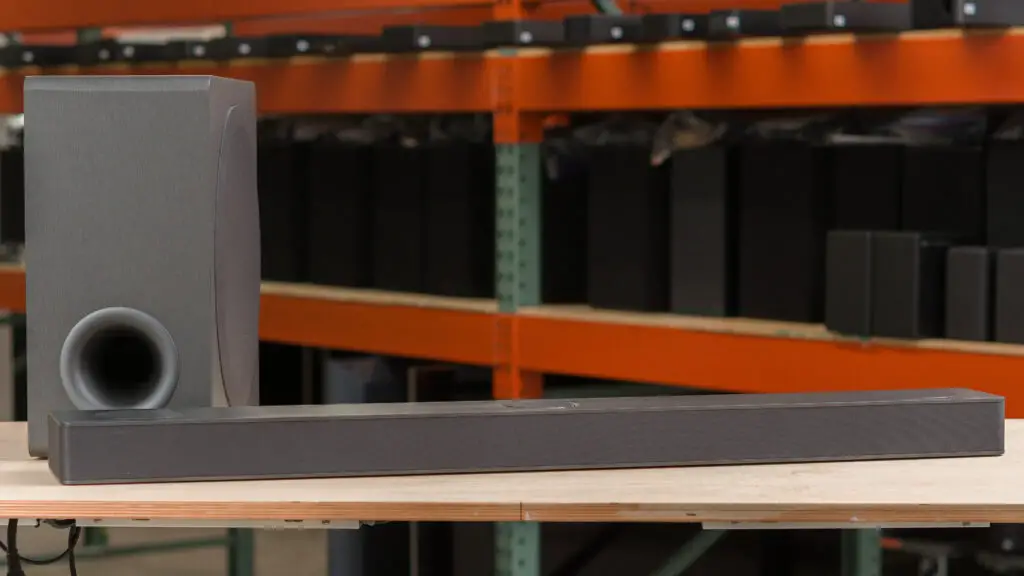 The choice between an LG soundbar and the Vizio Elevate ultimately depends on your specific requirements and budget. 
But, As the Vizio Elevate came across with bunch of new features and the latest systems that are unable in LG, I recommend you to go with any of the Vizio Elevate Soundbars. 
You'll get a Rotating Speaker Design, Dolby Atmos Height Channels, Adaptive Audio Technology, Voice Assistant Compatibility, And specs like Chromecast Built-in, Vizio Elevate soundbars allow users to stream music and other audio content directly from their mobile devices to HD quality.
However, If you prioritize customizable sound settings and premium audio performance in the normal range, then the LG SN9YG or SP7R might be ideal. These soundbars are a bit cheaper than the Vizio Elevate and will increase your sound system experience.
Frequently Asked Questions:
What is the main difference between LG and Vizio Elevate soundbars?
LG and Vizio Elevate soundbars differ in their audio technologies, design features, and pricing. LG soundbars are known for their adjustable sound settings and premium audio performance, while Vizio Elevate soundbars stand out with their rotating speaker design and Dolby Atmos support.
Can I use LG soundbars with non-LG TVs?
Yes! LG soundbars are compatible with most TVs, including non-LG brands. They can be connected via HDMI ARC, optical, or Bluetooth for seamless audio integration.
Do Vizio Elevate soundbars come with a wireless subwoofer?
Of Course, All Vizio Elevate soundbars include a wireless subwoofer, delivering powerful and deep bass for a more immersive audio experience.
Does Vizio Elevate soundbar support wireless streaming via Bluetooth?
Yes! Vizio Elevate soundbars support Bluetooth connectivity, allowing you to stream music wirelessly from your smartphone or other compatible devices.
Can we connect the Vizio Elevate with LG TVs?
Absolutely Yes! You can definitely connect the Vizio Elevate soundbar with LG TVs. Because The Vizio Elevate soundbar supports various connectivity options that allow it to be easily paired with different TV brands, including LG.
Heading Towards The End:
In conclusion, I would like to end the discussion by remembering you that, Depending on your preferences, budget, and specific needs, either brand could be an excellent choice for upgrading your home theater audio experience in 2023.
But, being totally new and proceeding with the latest systems like Rotating Speaker Design, Dolby Atmos Height Channels, Adaptive Audio Technology, Voice Assistant & Chromecast, I would like you to go with the Elevate sound system.
However, if you wish the next-level sound systems with budget-friendly devices, Then LG soundbars are the ones you're looking for. Check the detailed pages we've linked to these soundbars for more information.