In this comprehensive LG SLM5y soundbar review, we will take an in-depth look at this cutting-edge audio device which I've been using for a year and really love it! 
So, Let's transform your home entertainment system with my amazing recommendation. 
The LG SLM5y soundbar has garnered attention for its crystal-clear sound, versatile connectivity options, next-level functions, latest features, and budget-friendly price.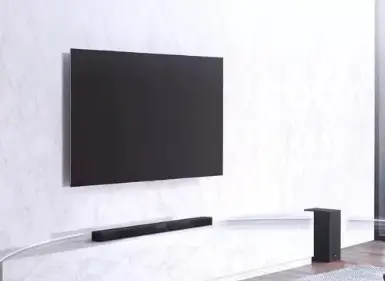 Allow me to take you into the details and astonishing performance of this remarkable soundbar to help you make an informed decision for your audio needs.
Overviewing LG SLM5y In Detail – See Why I Recommend This Soundbar!
Functions And Features Of The LG SLM5y:
One of the key highlights of the LG SLM5y soundbar is its ability to produce crystal-clear sound. Powered by advanced audio technologies, this soundbar ensures that you enjoy immersive sound quality while watching movies, listening to music, or playing games. 
Furthermore, Its wireless subwoofer adds depth to the audio, delivering powerful bass that enhances your overall experience. The amazing features of the LG slm5y include the following;
The Audio Resolution of the LG SLM5Y is amazing, which makes it superior to others. This frequency range lies Up to 24bit/96kHz.
Another great feature of the Slm5y is the USB Playback, which is available in it.
Wireless Surround Sound is also a key feature that has built-in into this model of the soundbar, which elevates the sound from the soundbar connected to the TV.
Audio Formats like DTS Virtual X, Dolby Digital, and Wireless Active Subwoofer just hit differently.
So, these are some of the Key features that collectively make the LG SLM5Y superior and incredible to others. Now without further ado, let's dig into the other factors.
Different Connectivity Options, So That You Can Pair So Many Devices With LG SLM5Y: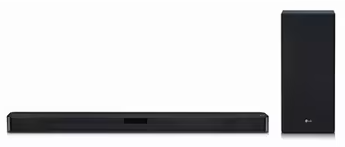 The LG SLM5y soundbar provides a wide range of connectivity options, making it a versatile choice for various devices. 
Whether you want to connect via Bluetooth, LG TV Sound Sync (Bluetooth), LG TV Sound Sync (Optical), Wireless Active Subwoofer, HDMI, USB, or optical inputs, this soundbar caters to all your needs. 
Say goodbye to cable clutter as you effortlessly connect your TV, smartphone, or other devices wirelessly. And just connect them correctly through these numerous connectivity options mentioned here.
Convenience And User-Friendly Specs Take My Attention The Most:
LG has focused on user convenience when designing the SLM5y soundbar. With wireless connectivity and an easy-to-use remote control, you can seamlessly manage your audio settings. 
Additionally, the dedicated smartphone app allows you to control the soundbar with your device, further enhancing the overall user experience. You can have so many other options also; let me enlighten them one by one for you.
| | |
| --- | --- |
| Auto Volume Leveler | Yes |
| Firmware Over-the-air (FOTA) | Yes |
| HDMI Audio Return Channel (ARC) | Yes |
| SIMPLINK | Yes |
| Smartphone Remote App (iOS/Android) | iOS/Android OS |
| TV Remote Compatibility | Yes |
Many Audio Formats Supported By The LG SLM5Y: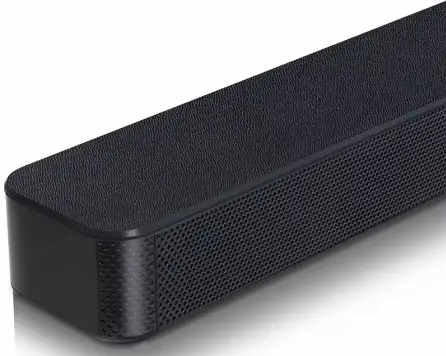 Another thing that enhances the power of the LG SLM5y is that It supports an extensive range of audio formats, including popular ones like Dolby Digital and DTS. Let e compile them here for your information.
| | |
| --- | --- |
| Audio Format | Availability |
| AAC / AAC+ | Yes |
| AAC C4A / USB | Yes |
| Dolby Digital | Yes |
| DTS Digital Surround | Yes |
| DTS Virtual X | Yes |
| FLAC (Up to 192kHz) C4A / USB | Yes |
| LPCM | Yes |
| MP3 | Yes |
| OGG (Up to 48kHz) C4A / USB | Yes |
| WAV | Yes |
| WMA C4A / USB | Yes |
This versatility ensures compatibility with various media sources, providing you with endless options for audio entertainment. Isn't It Amazing?
LG SLM5Y Has Particular Sound Modes:

One more factor to which you guys have to pay attention is the sound modes of this LG soundbar. Keep in mind that Customization is key with the LG SLM5y soundbar, thanks to its multiple sound modes. 
| | |
| --- | --- |
| Sound Modes | Status |
| Bass Blast | Available |
| AI Sound Pro | Available |
| Movie (Dolby Surround) | Available |
| Standard | Available |
You can tailor the sound profile according to the content you're enjoying. So, whether it's an action-packed movie, a soothing melody, or intense gaming sessions, the next-level sound modes of the LG Soundbar will enhance the output sound amazingly.
Very Budget-Friendly Soundbar:
Despite its impressive features and audio capabilities, the LG SLM5y soundbar remains cost-effective. It delivers exceptional value for money, making it an attractive option for those seeking high-quality audio without a hefty price tag. 
The Sleek Body Structure Of The LG SLM5Y Is Also A Factor: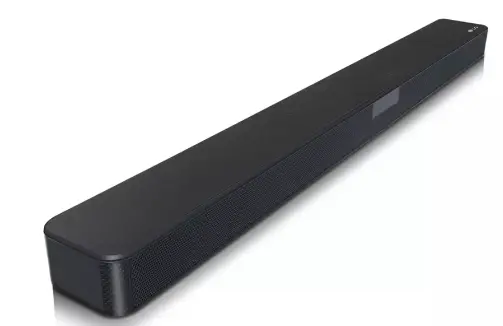 The more smooth and sleek body a soundbar has, the more attractive and efficient it becomes. And this property is greatly fulfilled by this model of the LG Soundbar. Let me put forward the Size, Weight, and Dimensions Of this soundbar with you guys.
| | |
| --- | --- |
| Sound Bar (WxHxD) | 353″ x 2.2″ x 3.4″ |
| Soundbar Net Weight | 5.2 lbs |
| Subwoofer (WxHxD) | 6.7″ x 15.4″ x 9.7″ |
| Subwoofer Net Weight | 11.7 lbs |
| Shipping Size (WxHxD) | 38.7″ x 16.4″ x 8.5″ |
| Shipping Weight | 21.5 lbs |
Normal Power Consumption Quality:
Some soundbars consume huge electricity for their smooth running and that's why I really don't appreciate such soundbars. 
So, I researched a lot about this factor and finally got the one with all these amazing features at a really reasonable price. The LG SLM5Y Soundbar consumes only 22W Power Consumption. 
And the Soundbar Standby Power Consumption is less than 0.5W. However, The Subwoofer will consume 33W power, and the Subwoofer Standby Power Consumption is less than 0.5W. That's why this whole Lg slm7y 2.1ch soundbar takes almost 400W power. Isn't it Cool to get all these features in such a Power and Price friendly soundbar?
Last But Not Least, 1-Year Warranty Of LG SLM5Y:
Lastly, Those thinking about the warranty of this soundbar, Chill out! Because you can have a 1-year warranty on this soundbar. 
And if there got any problem with its parts or system, you can directly contact the manufacturer to resolve these issues.
So, this is it! I've discussed almost everything that I searched in the soundbar before making a purchase. And have honestly put the truth in from of you. Watch this YouTube video also for a visual overview of this sound
From Where to Buy? – Looking For Legit Online Sources?
Now, if you've made up your mind to make a purchase of this soundbar. Then you can buy it from the official store of the LG soundbar.
But to experience the LG SLM5y soundbar's audio prowess firsthand, you can also check it here
Online platforms also offer various deals and promotions, so be sure to explore your options to find the best deal.
What Will You Get From The Cartoon? – Accessories Along With The LG SLM5Y!
Batteries:
Optical Cable:
Remote Control:
Wall Mount Bracket:
Warranty Card:
Power Cord:
Manual Script:
Frequently Asked Questions:
Does the LG SLM5y soundbar support wireless connectivity?
Absolutely! The LG SLM5y soundbar features Bluetooth connectivity, allowing you to connect wirelessly and enjoy music or other media without the hassle of cables.
Can I control the soundbar with my smartphone?
Indeed! LG has made it convenient for users to control the SLM5y soundbar through a dedicated smartphone app, providing an effortless and user-friendly experience.
What is the power output of the soundbar and subwoofer?
The soundbar delivers impressive X watts of power, while the wireless subwoofer complements it with Y watts of deep bass, ensuring a well-balanced audio performance.
Heading Towards The End:
In conclusion, the LG SLM5y soundbar fulfills the requirements and expectations with its outstanding audio performance, seamless connectivity, user-friendly features, and affordability.
You can have high resolution, multiple connectivity options, the latest features, a warranty, and enhanced loud sound from the LG SLM5Y soundbar. 
Get This Sound Bar from the sources we have provided and Enjoy!