So, you're having confusion between the LG SL4Y and LG SN4A, Right? Worry Not! Because I am here to let you know about the specifications of both the LG soundbars as I've used both of them for testing purposes.

And guess what? Both The LG SL4Y and SN4A seem to be the same, having almost relevant specs, characteristics, and features. You can have Dolby Digital, DTS Digital Surround, Night Mode, & ASC (Adaptive Sound Control: Default) with around about 300W power.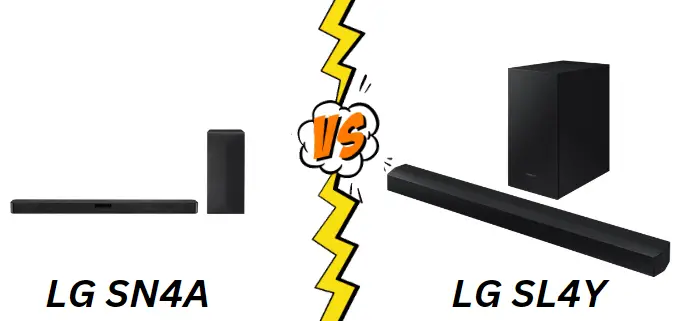 Isn't it amazing? That's why take an in-depth analysis of these soundbars with me and see which one is more suitable for your requirements and particular criteria.
Structure Of LG SL4Y vs SN4A – Let's Get The Sleek And Lavish Bar!
Details Of LG SL4Y Soundbar's Body:
| | | | | |
| --- | --- | --- | --- | --- |
| Subject | Weight | Dimension | Height | Width |
| Sound Bar | 5.2 lbs | 3.4″ | 2.3″ | 35.1″ |
| Subwoofer  | 11.7 lbs | 10.3″ | 15.4″ | 6.8″ |
| Shipping Size | 21.5 lbs | 21.6″ | 8.6″ | 38.8″ |
Appearance Of LG SN4A:
| | | | | |
| --- | --- | --- | --- | --- |
| Subject | Weight | Dimension | Height | Width |
| Sound Bar | 5.2 lbs | 3.4″ | 2.3″ | 35.1″  |
| Subwoofer  | 11.7 lbs | 10.3″ | 15.4″ | 6.8″ |
| Shipping Size | 21.5 lbs | 21.6″ | 8.6″ | 38.8″ |
As you can see, these are the weight and further details of the Soundbar, which is totally the same. So, get ready to place it in your Home Theater and just put it over the rack or mount it below the TV. The sleek and smooth texture of the soundbar will increase the beauty of your whole setup.
Some Best Features Of LG SN4A And LG SL4Y – Everything You're Looking For!

Dolby Digital:
One of the most interesting features of the LG Soundbars is Dolby Digital which is a key feature in LG soundbars, providing multi-channel audio for a rich, immersive sound experience. 
And Yes! You can absolutely have this feature in both the LG SL4Y & LG SN4A.
This advanced audio coding technology enhances sound clarity, allowing you to experience your favorite movies, music, and games with cinema-like audio quality.

DTS Digital Surround:

Another feature that enhances the Sound quality to the next level is the DTS (Digital Theater Systems) Digital Surround technology. Which is specified to bring the theater ambiance into your living room. 
Fortunately, The LG Soundbar definitely comes with DTS and creates a 360-degree sound field, enveloping you in a layer of sound from every direction, offering a more realistic and engaging listening experience. 
So, whatever choice you're making between lg sl4y and lg sn4a soundbar, you can have this feature.
Dynamic Range Control:

For those who don't know, Dynamic Range Control in LG soundbars allows you to control the audio's dynamic range in real-time. 
With this feature, you can minimize the volume difference between the softest and loudest audio, creating a more balanced and comfortable listening experience.
And if you're thinking about their availability in the discussing soundbar, Them Yes! LG SN4A and LG SL4Y both have this function.
Night Mode: 
Moving forward with one more amazing The Night Mode feature on LG soundbars is a lifesaver for late-night movie or music sessions. 
It adjusts the soundbar's output to create a quiet environment, reducing the bass and volume of louder sounds. So you can enjoy your late-night entertainment without disturbing others.
Wireless Surround Sound Ready – Major Key Difference!
A Wireless Surround Sound Ready system will enable you to add LG's wireless surround speakers to the system anytime you want.  And unfortunately, this function is unavailable in LG SN4A. 
This feature offers you the flexibility to upgrade your audio system to a full home theater experience without the clutter of wires when you are ready to do so. But you can have this spec in lg sl4y and nor in sn4a.
Auto Volume Leveler: 
Last But Not Least, The Auto Volume Leveler feature is a significant asset in LG soundbars. It prevents sudden volume fluctuations, ensuring a steady audio output. 
Whether you're switching between channels or experiencing a sudden loud scene in a movie, the Auto Volume Leveler keeps the audio consistent, enhancing your overall listening experience.

Here you go! You have taken a deep overview of the functions, features, and characteristics that an LG Soundbbar consists of and their availability in these LG SL4Y & SN4A soundbars. Now let's jump over other price differences between these bars.
Price Comparison Between LG SN4A And LG SL4Y Sound Bars – Most Considerable Factor!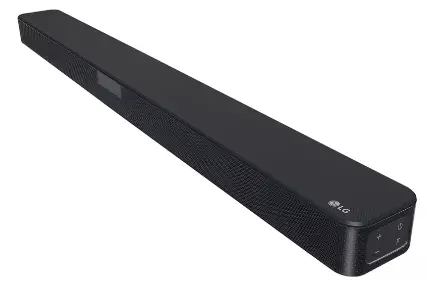 If we talk about the price difference of both these speakers, then there's a little difference in the amount. But The LG SN4A is a bit cheaper than the LG SL4Y and has the same kind of features and functions as the other one. That's why it is highly recommended that you guys take a decision by conserving all these factors and terms.
Do They Provide A Warranty? – A Main Factor To Check!
Yes, Of course! The LG brand has worked consciously over providing the warranty to the audience. 
And you can definitely get the guaranteed product. Now, if we take a look over, specifically LG SN4A and LG SLY4, then you chill out because this company provides a one-year warranty on both of these soundbars. You can visit the LG Soundbar store for confirmation.
So, whatever the issue you're having with your speaker within the first year of making a purchase, you can take it to the store, and they'll definitely work on it. 
Even though they can change the faulty parts in your speakers also. All you need to do is to take your device to the mechanics.
Which Soundbar Should You Need To Buy – Our Recommendations!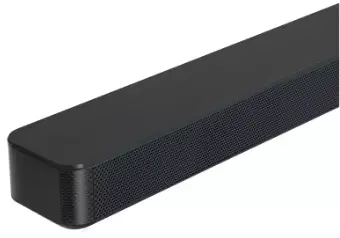 Before we just jump over the name of that brand, I would like you to consider a few things. Like, You must know the audio frequency, resolution, warranty, Quality of material used, features, functions, connectivity options, and price of these soundbars. 
So, keeping all these factors in mind, We suggest you get LG SN4A. And I've using this soundbar for 2 years and have prepared a whole Review Article Of LG SN4A for the ease of you guys. 
Must take a deep analysis and get the details of this soundbar from that article. Now most of you might be curious about the platform from where you can have such an amazing soundbar. If so, then stick here and check the data given below.
From Where To Make Purchase Of These LG Soundbars Online?
You can buy these next-level and amazing soundbars here
So, make the right choice before it's too late.
Frequently Asked Questions:
Can I use LG SN4A And LG SLY4 Soundbars With My TV Remote?
Yes, both soundbars can be easily integrated with your TV remote, thanks to their compatibility with various TV brands' remotes through HDMI-CEC functionality.
Does LG SLY4 & SN4A Soundbar Come With A Separate Subwoofer?
Yes! the LG SL4Y and SN4A come with a separate wireless subwoofer. And This pair then provides enhanced bass and adds depth to your audio experience. You can connect these speakers to each other through Wire, Bluetooth, and Optical wires.
Can I Connect The LG Soundbars To Smart TV?
Absolutely! Almost every LG soundbar is compatible with smart TVs and can be connected using HDMI ARC or optical cable for a hassle-free setup. 
So, yeah you can connect either LG SN4A or SLY4 to the TV via building right type of connection.
Summing Up The Discussion:
In The end of taking a detailed overview and comparison over the LG SN4A &LG SL4Y, We've reached at that point where we know that, LG SL4Y seems to be more efficient and progressive as compared to sn4a but it's a bit expensive also.
Beside this factor, the functions and features of both the soundbars are almost same and thus you can have any of them. Do your own research and make right choice at right time.