One of the Best soundbars that I've ever used is the LG SLM3D Soundbar which has built-in new and most latest features. And in this article, I'm gonna take a fully detailed review of this LG soundbar. So, let's get started!
The LG Slm3D has a sleek design, lightweight build, and diverse connectivity options, which makes it a versatile addition to any entertainment setup. With support for various audio formats and Sound modes, this soundbar delivers an immersive experience in low voltage.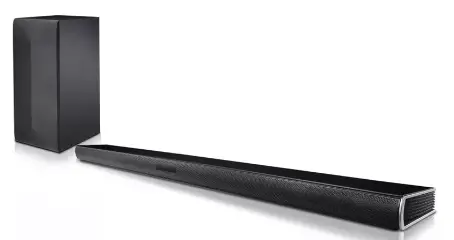 Let me provide you with every minor detail of this soundbar edition and some features that I really appreciate. So, Read On! 
The Functions And Features Of The LG SLM3D 2.1Ch Soundbar – Let's Take Analysis!

Key Features Of The LG SLM3D Soundbar:
When it comes to audio quality and immersive sound, the LG SLM3D Soundbar truly shines. You can have Dolby Digital, TV Remote Compatibility, Dot LED Display Type, three connectivity options, Dynamic Range Control, and ASC (Adaptive Sound Control). 
If you are unaware of the ASC Feature of the LG Soundbars, Then stop worrying and click on What Is ASC system In LG Soundbar and start exploring it with every necessary detail. 
So, Whether you're streaming music from your smartphone, enjoying a movie from your TV, or gaming on your console, the LG SLM3D Soundbar offers seamless connectivity through various ports and wireless options and is ready to take the sound level to its peak.
Sleek Structure And Lightweight Body Of The LG SLM3D:
The next thing that I love about the LG SLM3D soundbar is its modern design. Which not only enhances the aesthetics of my space but also ensures a hassle-free setup. The section mentioned below tells you this information, So you must take a look over it.
| | |
| --- | --- |
| Item | Weight |
| Sound Bar (WxHxD) | 35.03″ x 2.1″ x 3.4″ |
| Soundbar Net Weight | 5.2 lbs |
| Subwoofer (WxHxD) | 6.7″ x 15.4″ x 10.3″ |
| Subwoofer Net Weight | 12.4 lbs |
| Shipping Size (WxHxD) | 38.7″ x 16.4″ x 8.5″ |
| Shipping Weight | 22.3 lbs |
Furthermore, Because of its lightweight body, the installation becomes so easy for everyone that, allows you to enjoy the remarkable sound without the complexity.
1-Year Warranty They Provide:
Another great thing about LG SLM3D SOundbar is that There's a 1-year warranty plan. This is the opportunity in which you can change and get a new part or even device if the previous one gets faulty from the company. LG Bars provide one year warranty which I like the most.
Multiple Connectivity Options Of LG SLM3D With Wireless Subwoofer:

For your information, The LG SLM3D Soundbar is designed to provide users with a variety of ways to connect their audio sources and devices. This soundbar offers so many connectivity options, meaning it can be easily linked to various devices such as smartphones, TVs, gaming consoles, and more.
Basically, You Can Have various types of ports like HDMI, optical, USB or aux inputs, as well as wireless connectivity features like Bluetooth or Wi-Fi. With these options, users can choose the method that best suits their preferences and the devices they already have in their setup.
For instance, if you want to play music from your smartphone, you can connect it to the soundbar via Bluetooth, allowing you to enjoy your favorite tunes with high-quality audio. And If you're watching a movie on your TV, you can use the optical or HDMI connection to get immersive sound that enhances the viewing experience. 
This versatility in connectivity ensures that the LG SLM3D Soundbar can seamlessly integrate into various entertainment scenarios, making it a user-friendly and adaptable choice for audio enthusiasts.
Amazing Audio Formats And Sound Modes Of The LG SLM3D RMS Soundbar:
Now, Let's Dive into a world of captivating sound with the LG SLM3D Soundbar's support for a wide range of audio formats and astonishing sound modes. 
| | |
| --- | --- |
| Audio Formats | Availability |
| Dolby Digital | Yes |
| LPCM | Yes |
| DTS | Yes |
| MP3 | Yes |
| WMA | Yes |
From crystal-clear dialogue to heart-pounding bass, this soundbar covers all the auditory nuances for an immersive experience via these systems. 
Here's a table showing these formats and multipe sound modes supported by Slm3d.
| | |
| --- | --- |
| Sound Modes | Availibility |
| ASC (Adaptive Sound Control: Default) | Yes |
| Bass Blast | Yes |
| Movie | Yes |
| Night Mode | Yes |
| Dynamic Range Control | Yes |
And here you go! These are all the sound modes and audio formats that the LG SLM3D Soundbar has. As you've taken an analysis of these soundbars, now I want you to explore other amazing facts with me about this model.
Check Out The Power Consumption Of The LG SLM3D: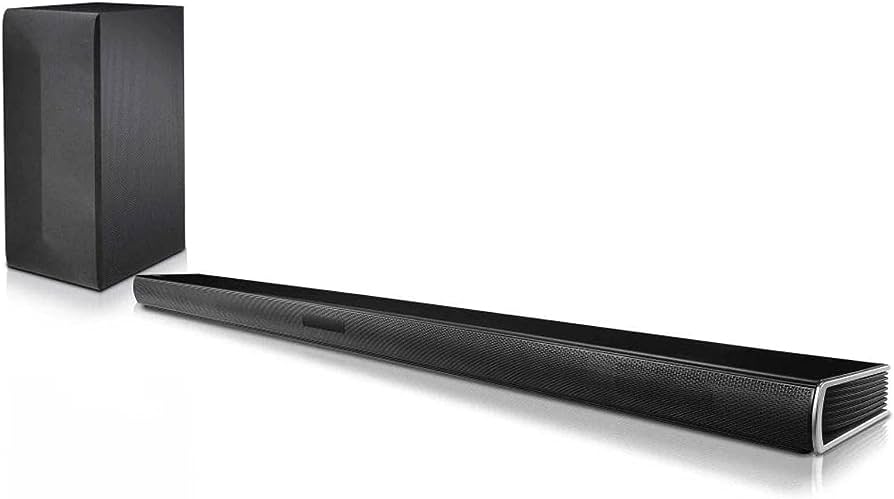 Concerned about energy efficiency? Then LG SLM3D Soundbar is the one for you. Because it is a thoughtful design that minimises power consumption without compromising on audio quality. 
The Power Consumption of Subwoofer is almost 33W, Subwoofer Standby Power Consumption is Less than 0.5W and Soundbar Standby Power Consumption is also Less than 0.5W. However, the Total 2.1Ch takes 300W to proceed efficiently. Which is a normal range as compared to many other bars.
Price Range Of This LG 2.1Channel SLM3D Soundbar:
One of the main parts of the review comes here! And this factor just blew my mind when I came to know that the price range of the LG SLM3D Sounbar depends upon the platform you're buying from. 
Isn't it amazing? Investing in high-quality audio doesn't have to break the bank. The LG SLM3D Soundbar offers exceptional value for its features, providing you with premium sound at an affordable price point. So, what are you waiting for?
Accessories You'll Get From The LG SLM3D Soundbar Box – See What's Inside!
Unboxing the LG SLM3D Soundbar is a treat in itself. Inside the box, you'll find not just the soundbar but also a collection of accessories designed to enhance your experience. Let me compile them for you!
| | | |
| --- | --- | --- |
| Remote Control | Warranty Card | Batteries |
| Optical Cable | Instructions | Mounting Brackets |
Have You Seen, From remote controls to mounting hardware, the LG SLM3D Soundbar package is thoughtfully curated for your convenience.
From Where To Buy LG SLM3D- 300W Online? – I know Some Authentic Platforms!
Now if some of you have made up your mind to make a purchase of this soundbar, then you can check it here
Frequently Asked Questions:
Can We Connect The Lg Slm3d Soundbar To My Smart Devices?
Absolutely! The LG SLM3D Soundbar offers a range of connectivity options to link with your smartphones, tablets, and other smart devices.
How Do We Update The Firmware Of The Lg Slm3d Soundbar?
Firmware updates for the LG SLM3D Soundbar are typically performed through a connected device, such as a smartphone or computer. Check the manufacturer's website or user manual for detailed instructions on updating the firmware.
Is The LG Slm3d Soundbar Compatible With My TV?
The LG SLM3D Soundbar is designed to be compatible with a wide variety of TVs, making it a versatile addition to your entertainment setup.
How Does The LG SLM3D Soundbar Handle Bass And Low-Frequency Effects?
This soundbar often includes a built-in subwoofer or enhanced bass technology, ensuring that low-frequency sounds are delivered with depth and impact, enriching your audio immersion.
Summing Up The Discussion:
In conclusion, I would like to some up the things by saying that, The LG SLM3D has made up with so many features and functions in really reasonable price and Power range. You can have ASC, DTS, Dolby, Night Mode and multiple other things to boost the output sound.
So, Immerse yourself in the richness of sound and make every moment truly memorable with the LG SLM3D Soundbar and Enjoy!