As you go through the digital jungle of home audio, the term 'Adaptive Sound Control' or 'ASC' may be crossed your path. But what is ASC, and why does it matter? If you're here to know details about this factor, then chill out and start reading the details we've compiled below.
So, The Adaptive Sound Control is a great feature in LG Sound bar, which analyzes the content in real-time and gives you a fully optimized sound depending on the condition.
Like, in case there are dialogues running in the background, it'll clarify them and will make them louder.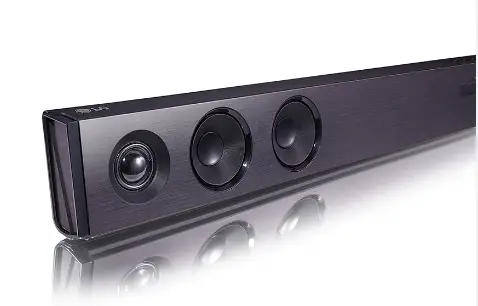 However, in case there's coming a loud bombing or high-pitched crashing sound in the scene, it'll automatically lower the audio. Let me elaborate on these things for your clear understanding.
Detailed Overview Of Adaptive Sound Control (ASC) In LG Soundbar– Let's Explore!

Basically, ASC is a distinct feature in LG Soundbars that ensures optimal sound balance. For example, you are watching TV, which is connected to the LG Soundbar, and now there comes the loud heavy volume scene; this feature will let the audio fall in a normal range and will slow down the system.
Likewise, in a case, while watching, there comes a faint soft dialogue scene, and the background sound is disrupting them; in that scenario, ASC is the only solution that will clarify the dialogue and will slow down the background music.
That's why it is a great feature in case you're not taking authority of using remote. But the question arises, how does this system work in the LG Soundbar?
How Does ASC Work? – Take A Look Below!
As we know that the Amazing function of ASC lies in its ability to analyze audio content in real-time and then it adjust the output sound accordingly.
But this whole scenario take place using Digital Signal Processing (DSP), which has the ability to differentiate between various audio types and modify the sound profile accordingly.
So, whether you're watching a thrilling action movie or listening to a soothing classical concert, ASC ensures that the sound output always complements the content perfectly.
What Benefits Does Adaptive Sound Control Bring To Your LG Soundbar Experience?

With ASC, there are so many advantages that will blow your mind, and you can definitely use them while watching TV. Let me enlighten them a bit for you.
Your simple Movie nights can become cinema nights because now you're Experiencing the explosive flow of whispered conversations and dramatic musical scores as they were meant to be heard.
Every song will be played in its best light; from heavy bass lines to delicate string quartets, ASC ensures that you hear every note as the artist intended.
Now, Gaming is possible with an extra thrilling sound that will put you right in the middle of the action.
In short, ASC allows you to enjoy great sound effects every time because this feature is working 24/7 for your better experience.
How To Enable ASC In LG Soundbar? – Easy Steps For Beginners!

To enable ASC (Adaptive Sound Control) in an LG Soundbar, you can follow these mentioned steps one by one:
First of all, Ensure that your LG Soundbar is properly connected to your audio source (TV, computer, etc.) using the appropriate cables (HDMI, optical, etc.).
Then Turn ON your LG Soundbar and make sure it is in the appropriate input mode for the connected device.
Locate the remote control that came with your LG Soundbar.
On the remote control, look for a button labeled "ASC" or "Adaptive Sound Control." It might be a dedicated button or part of a group of audio-related buttons.
Press that button on the remote, and the system proceeds.
Now, Check the display on the LG Soundbar or your TV screen to see if the ASC feature has been activated. You may see an indicator or a message confirming that ASC is now enabled.
Adjust the volume on your LG Soundbar and listen to the audio to experience the effect of the Adaptive Sound Control feature.
And Wala! You've successfully enabled the ASC feature in your LG Soundbar. It'll definitely make your audio experience much better when running the Transmission.
Frequently Asked Questions:
Is ASC Available On All LG Soundbars?
No, this is the latest function which is not supported by every soundbar in LG and that's why the new and latest model soundbar are teh inethat has this incredible feature.
Does ASC Work With All Types Of Content?
Yes we can say that, Because ASC is designed to work with a wide range of audio content. It effectively identifies and optimizes dialogue, music, and action sounds.
Does Using ASC Increase Power Consumption?
No, ASC doesn't significantly impact the power consumption of your LG Soundbar. This is a feature that us buit-in the system which works for the wase of their audience and had nothing to do with the power consumption of the Soundbar.
Summing Up The Content:
As you explore the exciting world of LG Soundbars, you now know why the Adaptive Sound Control feature is such a game-changer.
Generally, The ASC feature is a system installed in the new and latest LG Soundbars, which is responsible for analyzing and adjusting the sound effect according to the current transmission on your TV.
This is a great feature that resembles the Tru-Volume system and is highly appreciable. So check out the ways we've compiled above to enable this function and enjoy auto-managing sound effects without the need for a remote.