Welcome to our comprehensive review of the LG SP7R 7.1 Channel High Res Audio Soundbar. In this article, we will dive deep into the features, performance, and overall experience of this remarkable soundbar. So, Let's Explore It!
Basically, LG SP7R 7.1 Channel High Res Audio Soundbar comes with Rear Speaker Kit that needs 580W Total Output Power, and the High-Resolution Audio lies between 24bit/96kHz. 
Some Key Features Include DTS Virtual:X, Sound Bar Mode Control, TV AI Sound Passthrough, Bluetooth Streaming, & LG TV Sound Sync (Optical/Bluetooth).

LG SP7R 7.1 Channel High Res Audio Sound Bar
Features: Premium Fabric, Stylish Wood-Tone Side Panels, DTS Virtual:X
So, Without Further ado, let's dig deep into the features and properties of this soundbar.
Reviewing The Features Of LG Soundbar LG SP7R 7.1 Channel – Must Check Them Out!
Next-Level Audio Sound Range Of LG SP7R 7.1 Channel Soundbar:
Most of the audience is in search of this characteristic and wants their soundbar to be as loud as it can be. So that they can enjoy their watchings.
With its 7.1 channel configuration, this soundbar produces a rich, deep, and room-filling sound that brings movies, music, and games to life. 
The Frequency level of LG SP7R is round about 96kHz, which makes the audio sound experience so good.
That's why if you're searching for a soundbar that has high sound quality and bass, then this one is made for you!
Multiple Connectivity Options Of LG SP7R 7.1 Ch Soundbar:
Another thing that plays an important role in building the name of the device is its Connectivity Options. 
And The LG SP7R offers a wide range of connectivity options, ensuring that you can easily connect to other devices and enjoy your favorite content. 
It supports HDMI, Bluetooth, USB, and Wi-Fi capabilities, and that's why you have the flexibility to connect your devices wirelessly or optically, depending on your need and requirements.
Now, Let me put forward these pairing options in the form of a table for you guys.
| | |
| --- | --- |
| Wireless Active Subwoofer | Bluetooth (4.0) |
| LG TV Sound Sync (Bluetooth) | LG TV Sound Sync (Optical) |
| HDMI 1.4 Out (1) | HDMI 1.4 Input (1) |
| Optical Input (1) | USB Host (1) |
So, these are the pairing options you guys can have in case of the LG SP7R. Using them you can get connect to number of devices that are compatible to these connections and get entertained.
Speakers That Creates The Wide Channel To Increase Surround Sound Experience:
As we've mentioned the full name of the soundbar– LG SP7R 7.1 Ch, it points out the channel this soundbar works with.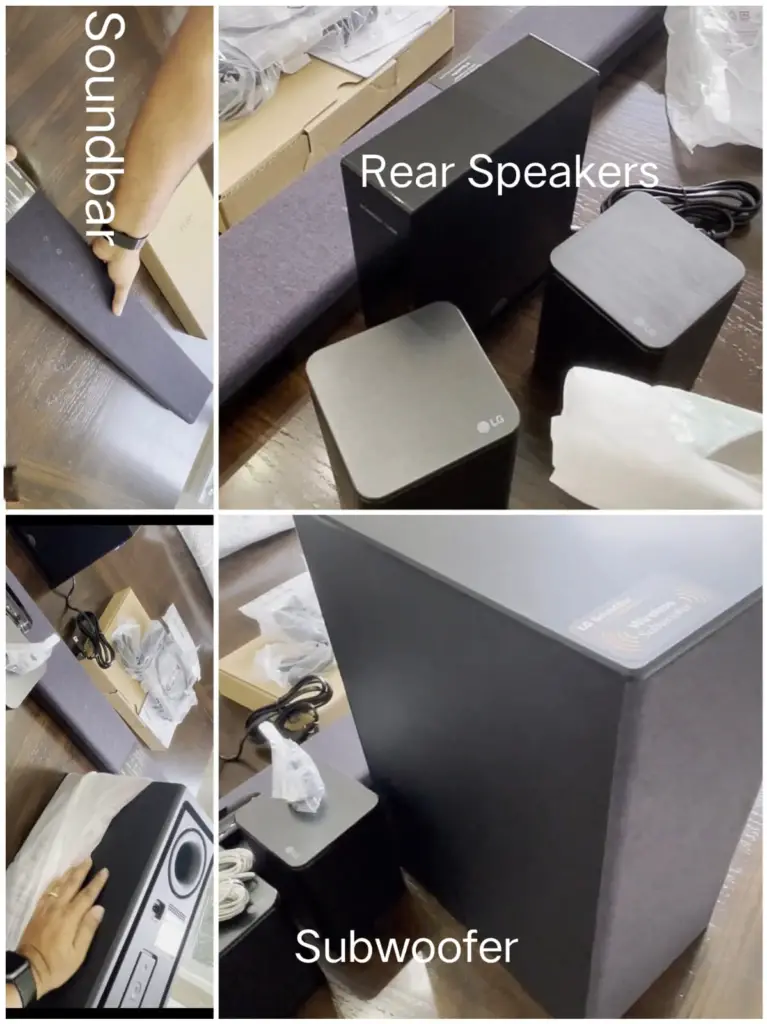 Basically, a channel is a network of speakers and subwoofers in the language of a sound system. 
And that's why this complete set gives you a hundred percent vibe of Home Theater System. 
Allow me to enlist these speakers for you,
| | |
| --- | --- |
| Speakers | Power Consumption |
| Front (Left / Right) | 45Wx 2 |
| Center | 40W |
| Surround (Side) | 45W x 2 |
| Subwoofer | 220W (Wireless) |
| Rear | 140W |
And that's how the channel completed. Aren't you going to have the next-level audio sound experience of your favorite show via this LG Soundbar Channel? 
Appearance, Dimensions & Weight Of LG SP7R Soundbar:
In terms of aesthetics, the LG SP7R boasts a sleek and modern design that complements any living space. 
Its slim profile and premium finish make it an attractive addition to your home entertainment setup. The dimensions are made so accurate that the user loves to set it up.
| | |
| --- | --- |
| Sound Bar (WxHxD) | 39.4″ x 2.5″ x 4.1″ |
| Subwoofer (WxHxD) | 7.1″ x 15.5″ x 11.4″ |
| Rear Speaker (WxHxD) | 3.5″ x 4.8″ x 3.2″ each |
| Soundbar Net Weight | 7.1 lbs |
| Subwoofer Net Weight | 12.8 lbs |
| Rear Speaker Net Weight | 1.9 lbs each |
So that's how, This soundbar seamlessly blends in with your TV, creating a visually pleasing setup that enhances the overall ambiance of your room.
Some Incredible Features And Functions:
Some of the astonishing Properties of the LG SP7R Soundbar for you here. Must take a look over them and let these features increase your sound quality and surround sound system.
| | |
| --- | --- |
| Features | Availability |
| High Resolution Audio | Up to 24bit/96kHz |
| TV Remote Compatibility | Yes |
| Smartphone Remote App (iOS/Android) | iOS/Android OS |
| Smartphone Music File Playback | Yes (Bluetooth)  |
| Auto Volume Leveler  | Yes (In App) |
| HDMI Audio Return Channel (ARC) | Yes |
| Dynamic Range Control  | Yes (In App) |
| SIMPLINK | Yes |
| LCD Display Auto-Dimmer | Yes |
| Auto Power (On/Off) Remote | Yes |
| Customize EQ Remote  | Yes |
| Night Time Mode (On/Off) Remote | Yes |
| Surround (On / Off) Remote. | Yes |
| 24-bit Upsampling | Yes |
| Bluetooth Streaming | Yes (4.0) |
| DTS Virtual:X | Yes |
| Meridian Audio Technology | Yes |
| Surround Sound Expansion | Yes |
| USB Playback | Yes |
| Sound Bar Mode Control | Yes |
| TV Sound Mode Share | Yes |
These aren't enough by the way, there are a bunch of other things to be reviewed and explored. So, let's get into it without  wasting our time.
Sound Modes And Audio Formats LG SP7R 7.1 Channel Soundbar Contains – Amazing Properties You Need To Know! 
LG SP7R 7.1 Channel Sound Bar is equipped with an impressive array of sound modes and supports various audio formats.
That collectively works on the immersive Surround Sound, Enhanced Dialogue Clarity, Loud, high-pitched audio, Or Customized Audio Settings. 
Sound Modes:
AI Sound Pro.
Music– With Meridian.
Standard
Cinema
Clear Voice
Bass Blast
Bass Blast +
Sports
Game
DTS Virtual:X
Audio Formats:
LPCM
Dolby Digital
DTS Digital Surround
USB
AAC 
AAC+
And here you go! These are all the sound modes and teh Audio Formats  that this model of the LG Soundbar supports. 
Make sure to check them out through the settings and enable the most suitable option for the astonishing working of your bar.
What's Inside The Box Of Soundbar LG SP7R 7.1 Channel – Explore The Accessories They've Placed For You!
And here comes the Most Awaited part. The thing I really liked about LG products is that they offer you a full package so that it is really worth it. 
From a wireless subwoofer for deep bass to remote control for convenient operation, LG has thoughtfully included all the necessary accessories to elevate your audio enjoyment.
In the box, you'll have:
Remote Control
Batteries ( AA x 2)
Optical Cable
Wall Mount Bracket
Warranty Card
So, There's no more need to get a battery or leads separately for your Soundbar because this stuff is provided by the manufacturer itself. The original and Compatible accessories are packed up in your package.
| | |
| --- | --- |
| Praiseworthy Facts About LG SP7R 7.1 Channel Soundbar In My Opinion: | Non-Appreciable Stuff In LG SP7R 7.1 Channel Soundbar That I Don't Like: |
| The Thing On The Top Of The List Is That; The SP7R has a Speaker Kit, which creates a channel to enhance the sound effect and for crystal-clear audio quality. | One consideration is its Premium Price Point, which may be a limiting factor for budget-conscious consumers. But you having the Audio Resolution– 24bit/ 96kHz like the SP7R bar. |
| Another thing I really admire about LG Soundbar is that they have a Warranty Card so that you can seek their customer support anytime. | Although there are so many other functions, But it Doesn't Support Dolby Atmos features. |
| The Power Consumption Of the Soundbar is as reasonable as you can see; the Soundbar Consume 45 W and the Subwoofer Consume 33 W Power to run flawlessly. | It lacks some of the newer connection options found in other soundbars, such as HDMI eARC. |
| Offers So many smart and new features like DTS Virtual:X and Meridian Audio Technology. | |
| The connectivity options and support for various Sound modes and formats make it a versatile choice for different audio preferences and setups. | |
Legitimate Sources To Make Purchase Of LG SP7R Soundbar – No Need To Worry About Quality Now!
No doubt there are so many Shops – Physical and Online from where you can easily buy soundbars, but the point is, They may not give you the original product with all these features and functions. 
Check it Here
Summing Up The Data Of LG SP7R 7.1 Review:
In The End, I'll recommend you LG SP7R Soundbar system if you're in search of the whole Home theater system.  Because it comes with a fantastic channel having rear speakers and a subwoofer that'll give a great vibe.
The power consumption is also applaudable, but the price may be expensive for some of the buyers. However, the features and function of LGSP7R are really worth it.
You can check out the links we've provided in this article for better experience and details. So, Do your own analysis on the functions it supports and go make a purchase. And Enjoy The Loud, Great Sound System At Your Home!