One of the best LG soundbars includes the SN4A version, which is highly advanced with the new qualities and features of AI Sound Pro, Dolby Digital, and DTS digital sound surround. All these properties will deliver a clearer, optimized, and highly optimum output sound which will increase the amusing level of your broadcasting.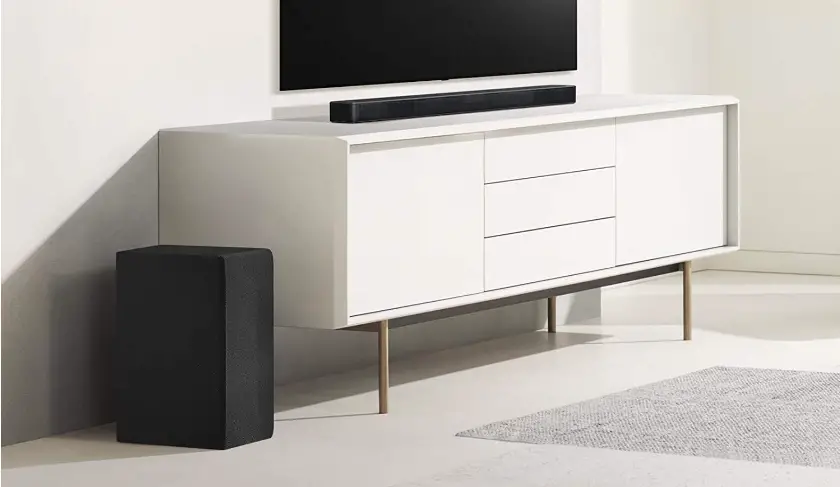 LG SN4 2.1 Channel Sound Bar with Wireless Subwoofer
Features: Bluetooth Audio Streaming, DTS Virtual: X, Wall-Mount Bracket Included
Want to know the detailed features of SN4A? You are at the right spot! We are here to give you a complete review guide in this article. So, Stick with us!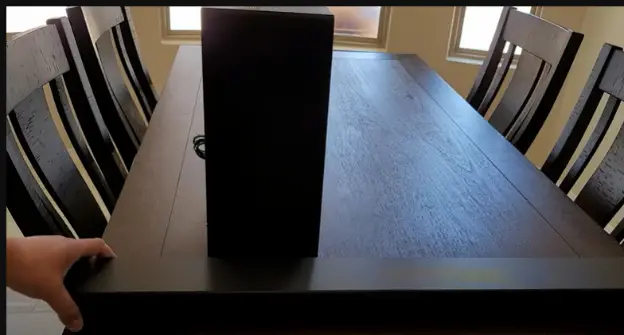 Detailed Features of LG SN4A soundbar:
Loud and Supreme Output Sound of the LG SN4A soundbar – Top-notched priority of customers:
You will recognize a  huge clearance and enhancement in the upcoming sound of SN4A, which is the priority of every soundbar purchaser. The sound interference of this soundbar is good enough to play into a small area or bedroom.
Modified Sound Modes and the Latest Conveniences are featured in LG SN4A.
Now let's talk about the complex but modified features of this amazing soundbar which includes the DTS Virtual:X– which creates a rhythmic and clearer sound effect in the room and gives a cool cinematic vibe, especially for movie lovers.
Bass Blast and Bass Blast+ are also installed in Sn4a, which is the best option if you want highly-pitched bass.
AI sound pro is also featured in SN4A for the auto-optimization of the output sound of the soundbar So that you don't have to worry about the sound adjustment anymore. And a fully recognized and suitable audio will be delivered.
You'll get other incredible features in SN4A soundbars like ASC (Adaptive Sound Control), User EQ (Equalizer settings), and Dynamic Range Control, the best audio formats installed in newly released soundbars.
Moreover, Auto Volume leveller, Simplinks, and Night Mode are also present in this device of LG for its efficient and smooth working.
Some Excellent Setup Qualities of LG SN4A
LG SN4A sound bar comes with a 2.1 setup, and its front output power is 2x50W, and the subwoofer's output power is 220W (Wireless). The speaker system unit for the multi-dimensional sound of the LG SN4A soundbar has a 40 x 100mm  system. And It conjointly has a bass reflex system which will give you the sound you're searching for your parties at home.
LG SN4A soundbar is very Budget–Friendly and easily affordable due to its features:
Another feature which is always the top priority of buyers just like me, Is the normal Pricing of the item.
This is because, It takes 300 Watts of power to turn On and to do further proceeding, which is economically fair for people of every community.
The modest functions and premium qualities of this soundbar of LG proves its worth very well because these features are installed in highly paid soundbars mostly.
Appearance and Weight of the LG soundbar SN4A.
The Width, Height, and Dimensions (WxHxD) of the SN4A soundbar are
35.1″ x 2.3″ x 3.4″, respectively, which makes it easily adjustable. Also, The secret of being lightweight is that it weighs only 5.2 lbs which is why it is too easy to lift and place it.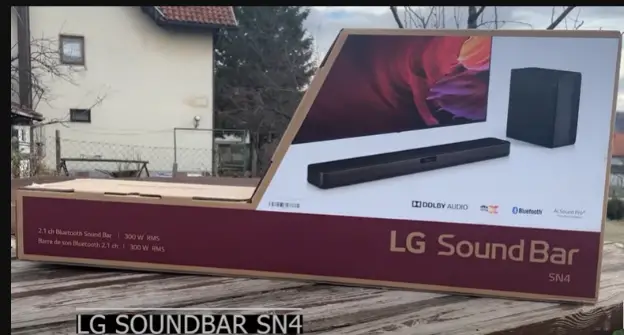 An amazing Subwoofer is also packaged along with the SN4A.
The speakers are made beautifully with a carbon touch, which makes them smooth and lavish. They are also featured with deep bass, which boosts the output sound incredibly and their connectivity. You can connect it via HDMI or bluetooth easily.
Another amazing thing is the net weight of the subwoofer is 11.7 lbs which also increases the output sound effect if placed properly.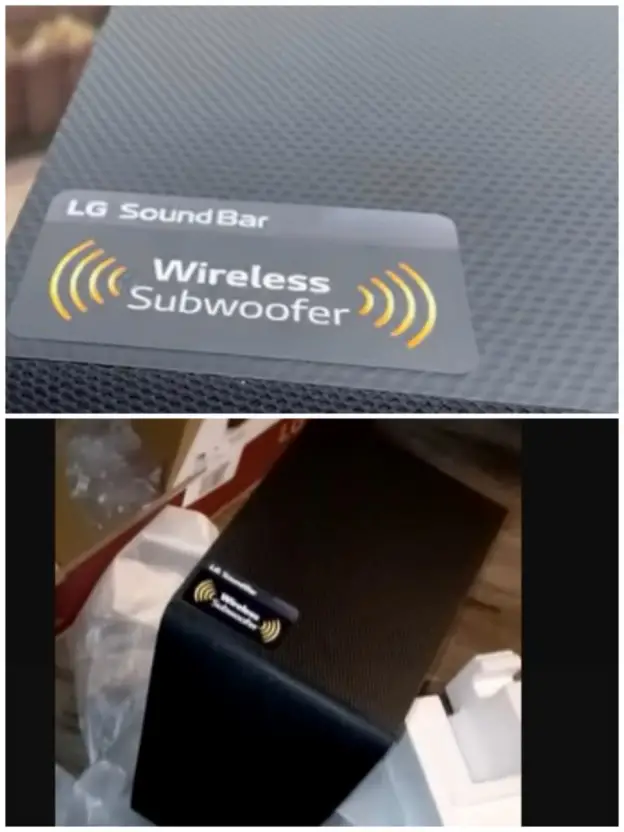 Here, I'm going to leave a YouTube link in which you'll see the Unboxing and visual review of the LG SN4A Soundbar. Take a look there!
Summary of LG SN4A specs.
| | |
| --- | --- |
| Soundbar Name | LG SN4A 2.1 Channel Soundbar |
| Sound Technology | AI sound Pro, DTS Virtual:X, Bass Blast |
| Audio Formate | DTS, Dolby Digital |
| Connection Supported | Wireless, HDMI, USB, Digital Optical |
| Controlled By | Soundbar Remote, TV remote, LG soundbar APP. |
Connectivity Features of LG soundbar (SN4A) – See how many ways are here to connect your device to the soundbar!
 Connecting your TV/LED or other devices to the soundbar to operate the show/ music you want to play is the main part of the installation. And that's why you must know which type of connections are possible in the device you're going to make a purchase.
LG soundbar SN4A can be linked with the Device having "Digital Optical" cords.
General – HDMI 1.4 (HDCP 1.4) – In / Out is also featured in the SN4 soundbar of LG.
USB can also be joggled into the slots of SN4, which is also a great way of connecting.
Lastly, Wireless Connection includes Wi-Fi and Bluetooth, which is another option for linking devices–Mobile, Subwoofer, PC, LED/TV, and many other versatile devices having bluetooth connection.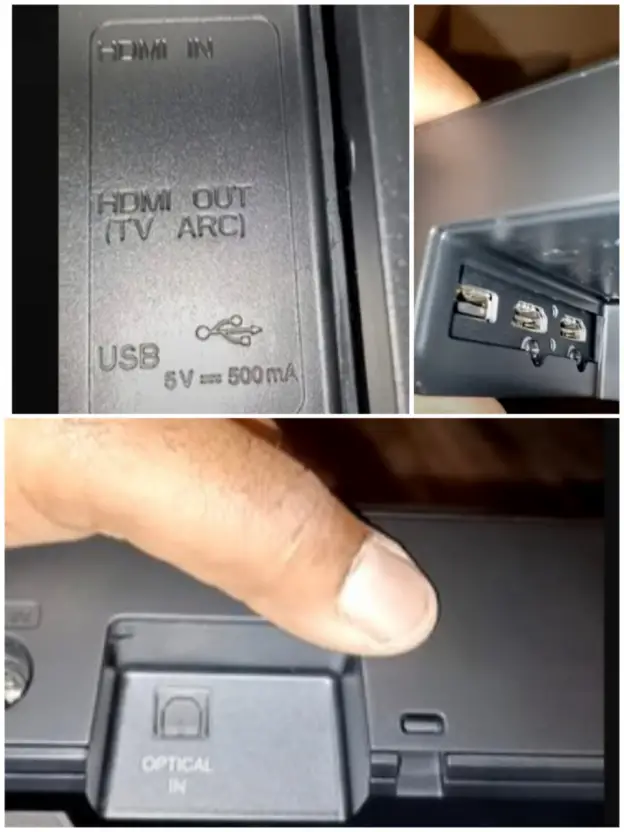 Featuring HDMI in/out makes it much easier to connect devices like BlueRay Player, PlayStation 4, BassBox, etc.
There's also an option to connect your soundbar via Bluetooth, which is a quick and reliable method as it'll connect to every device that has bluetooth.
USB and Optical Input connection is also possible. All you have to do is joggle the cords tightly into the slots.
Mentioning details of Power Consumption of LG SN4A.
| | |
| --- | --- |
| Main–Type | Adaptor (25V, 1,52A) |
| Main Power Consumption | 23W |
| Subwoofer standby Power consumption | 0.5 Watts |
| Main Standby Power consumption | 0.5 Watts |
| Subwoofer Power Consumption | 33 Watts |
| Subwoofer Wireless Frequency | 5GHz |
| Output Power (THD 10%) – Total | 300W |
| Output Power (THD 10%) – Subwoofer | 220 (Wireless) |
Accessories You'll get with the SN4A Soundbar.
You'll get the following things along with the pack of the soundbar, which makes the installation of SN4A much easy for beginners.
You'll get the following things from the package.
Owner's Manual.
Remote Control Unit.
Warranty Card– 1-year parts and labor.
2 Built-in batteries.
Wall mount brackets.
Optical Cable.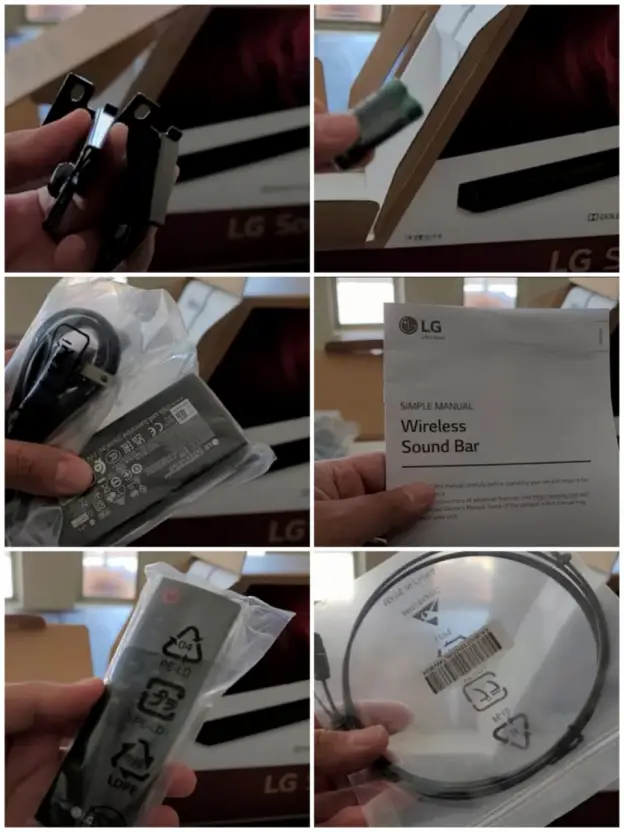 These are the accessories you'll get to start up your soundbar in an excellent and straightforward way.
Audio Format SN4A supports
| | |
| --- | --- |
| Features | Installed |
| LPCM | Yes |
| DTS Digital Surround | Yes |
| WMA | Yes |
| MP3 | Yes |
| Dolby Digital | Yes |
Here, You can watch a Youtube video for an amazing understanding and review of lg SN4A.
Things about SN4A I really admire:
A high-quality clear sound will be delivered to you from LG SN4A due to Bass Blast+ and other audio formats discussed above.
You can place them easily in any congested area because of the portable structure of LG SN4A.
The 2.1 channel makes your sound extremely loud. You'll have a Soundbar and a Subwoofer, which work collectively for wonderful results.
Because of having a number of slots and connectivity features, I can sum up by saying Lg SN4A has versatile connectivity.
Last but not least, SN4A is very cost-friendly, So that anyone can easily afford it. Furthermore, the functions installed here prove its worth very well.
Some facts about SN4A I don't appreciate:
Lg SN4A soundbar has features that are suitable for small rooms only. Because there'll be a soundbar and a subwoofer in the 2.1 channel of LG, which will make your bedroom a loud home theatre. So, if you're searching for a soundbar for your living room, then take a look over some other LG soundbars because you'll not get the desired sound from SN4A.
No Doubt, the output sound from this soundbar will have no distortion, but the quality isn't appreciable enough as compared to these mentioned soundbars.
If You've made up your mind to buy SA4A Soundbar after being impressed by its qualities and latest features, Then Chill out! Just find the most suitable online platform.
Our Final Thoughts about the SN4A
Concluding the article by adding my personal suggestions, LG SN4A has a number of amazing features as we've analyzed, and it'll be considered the best long-lasting soundbar.
But I'll recommend you this soundbar only if you're searching the theatre system for a small room because the features installed in SN4A are good enough to fill up your booth with multi-dimensional sounds.
However, if you want to buy a soundbar for a big hall or living room, Then I'll recommend you spend money on LG SP7Y 5.1 Channel High Res-Audio Sound Bar or LG S95QR 9.1. 5 Channel Sound Bar because of their amazing working made-up only for vast space. So, If the features of SN4A fulfil your requirements as we've explained above, then go for it now!