LG and Samsung are two prominent brands that have consistently delivered top-notch audio solutions. 
Recently, My friend and I bought LG SN7R and Samsung HW-Q67CT soundbars, respectively, to do a little experiment with the features and working of these amazingly famous brands. And Guess what? The LG SN7R seems to be more effective than the Samsung hw-q67ct.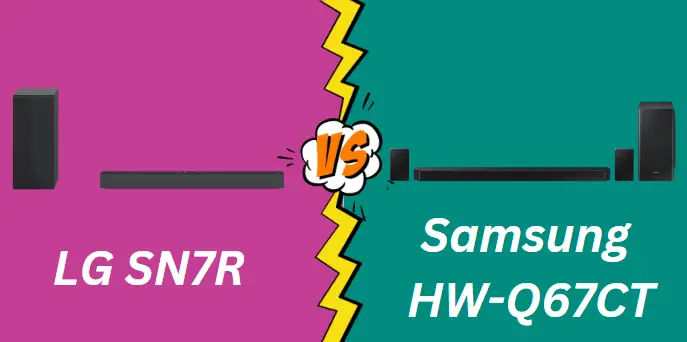 In this article, we'll take a comprehensive look at these soundbars by comparing their features, design, and performance. So, Stick with us till the end of the discussion!
Structure of LG SN7R vs Samsung HW-Q67CT – Let's Get the Lavish And Smart Soundbar!
Details of LG SN7R Soundbar's Body Structure:

The LG SN7R boasts a sleek and elegant design that seamlessly blends with modern living spaces. 
Its slim profile and minimalist aesthetics make it an attractive addition to your entertainment setup. 
Furthermore, Featuring high-quality materials and premium construction, this soundbar leads to next-level clear and loud sound level.
| | | | |
| --- | --- | --- | --- |
| Object | Dimension | Height | Width |
| Sound Bar | 4.7″ | 2.6″ | 35.04″ |
| Subwoofer | 11.5″ | 15.4″ | 7.1″ |
| Wireless Receiver | 6.9″ | 8.7″ | 2.4″  |
| Rear Speaker Each | 3.2″ | 5.5″ | 3.8″ |
| Shipping Size | 23.2″ | 8.9″ | 38.7″ |
Inside the LG SN7R, you'll find a combination of front and side-firing drivers that disperse sound waves in multiple directions, resulting in an expansive and enveloping audio experience. 
The soundbar is complemented by a wireless subwoofer, adding depth and richness to low-frequency sounds. 
Additionally, the LG SN7R's body is optimized to minimize vibrations, ensuring a clean and distortion-free sound output.
The Appearance Of Samsung HW-Q67CT: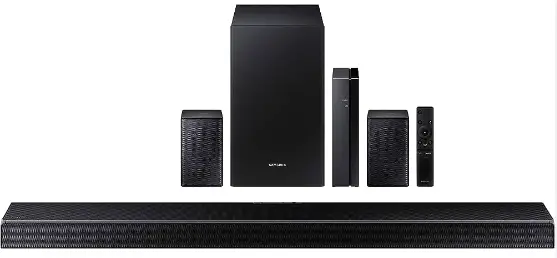 On the other hand, the Samsung HW-Q67CT presents an equally stylish appearance with its curved body. The captivating design enhances its visual appeal while maintaining a focus on performance. So, I've compiled the dimension, height, and width of this Samsung soundbar here in the table given below.
| | |
| --- | --- |
| Soundbar Dimension | 43.3 inches (110 cm) |
| Soundbar Height | 2.3 inches (5.8 cm) |
| Samsung HW-Q67CT Width | 3.9 inches (9.9 cm) |
This is how the LG Soundbar seems to be a little wider than the Samsung soundbar. And beyond its attractive aesthetics, the Samsung HW-Q67CT incorporates Acoustic Beam technology also, where sound is projected from openings at the top, immersing you in a three-dimensional audio environment. 
Isn't it incredible? Now let's move further to the outclass features and systems of these soundbars.
Some Best Features of LG SN7R vs Samsung HW-Q67CT – Everything You're Looking For!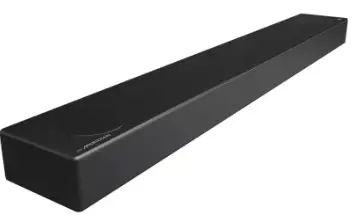 Immersive Surround Sound Experience:
Both the LG SN7R and the Samsung HW-Q67CT deliver a captivating and immersive surround sound experience. With their advanced audio technologies, you'll be fully immersed in your favorite movies and music.
The LG SN7R employs Meridian Audio's expertise to optimize sound quality, ensuring crystal-clear dialogue, distinct instrument separation, and precise sound imaging. This soundbar supports Dolby Atmos and DTS:X, simulating a 360-degree soundscape that surrounds you from all angles, making it feel like the action is unfolding right in your living room.
The Samsung HW-Q67CT, on the other hand, embraces Adaptive Sound, which analyzes audio content and optimizes sound output based on the scene. It adapts to different genres and audio formats, ensuring the soundbar delivers an impressive performance regardless of what you're watching or listening to.
Wireless And Compatibility Of LG SN7R & Samsung HW-Q67CT: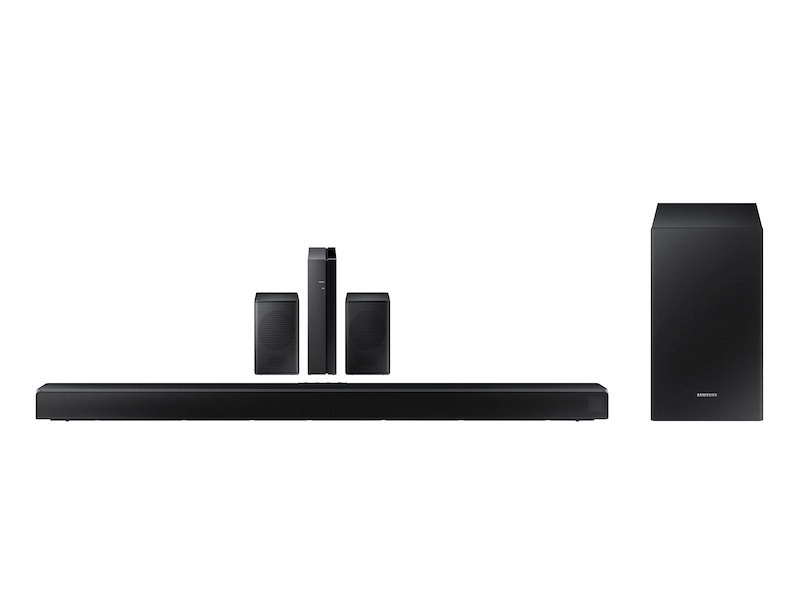 With seamless wireless connectivity options, these soundbars make it easy to stream your favorite content from various devices. Whether it's Bluetooth, Wi-Fi, Optical, or HDMI, these soundbars have you covered.
Both soundbars are equipped with HDMI eARC (enhanced Audio Return Channel) ports, allowing you to enjoy lossless audio formats like Dolby TrueHD and DTS-HD Master Audio from compatible devices. 
This enables you to experience the full potential of high-resolution audio without any loss in quality. 
You can also make Bluetooth wireless connections from these soundbars. Furthermore, Various Optical Connections are available also depending upon the compatibility of wires.
Connectivity With Subwoofers:
The LG SN7R and the Samsung HW-Q67CT are equipped with dedicated subwoofers that pack a punch when it comes to deep, resonant bass.
As these soundbars have the authority to get linked with more than 2 speakers being a part of the Channel. 
The low-frequency response enhances your audio experience to make every beat palpable.
The LG SN7R's wireless subwoofer works harmoniously with the main soundbar to produce robust and impactful bass. 
It adds depth and dimension to explosive action sequences and lets you feel the thump of your favorite music genres.
Similarly, the Samsung HW-Q67CT's wireless subwoofer delivers ground-shaking bass thanks to its powerful driver and clever design. It intensifies the on-screen action and adds a visceral element to your gaming experience.
Compatibility With Adaptive Sound And AI Technology:
Samsung's HW-Q67CT integrates AI technology to analyze audio content and optimize sound output based on the scene. 
By recognizing different audio elements like dialogue, sound effects, and music, the soundbar ensures each aspect is delivered with clarity and precision. 
This intelligent sound optimization elevates your audio experience to new heights, creating a more engaging and realistic sonic environment.
On the other hand, the LG SN7R boasts Adaptive Sound Control, which automatically adjusts audio settings based on the content being played.
Whether you're watching an action-packed movie or enjoying a relaxing music playlist, the LG SN7R tailors its sound profile to suit the scenario, ensuring you never miss a beat.
Here you go! These are some of the amazing features of the LG and Samsung soundbar, which you can have in them for the next-level sound experience.
Price Comparison Between LG SN7R 5.1.2 VS Samsung HW-Q67CT Soundbars – One Must Consider!

While both soundbars offer exceptional performance and features, their price points differ. 
The LG SN7R may appeal to budget-conscious buyers, while the Samsung HW-Q67CT justifies its price with its premium design and advanced technologies.  
From Where To Make Purchase? 
So, if you've made a choice between these 2 soundbars and are looking for a platform from where you can get a high-quality original product, then keep in mind, the price may vary from place to place and country to country depending on the specific delivery locations.
Which Soundbar Should Buy? – Our Recommendations!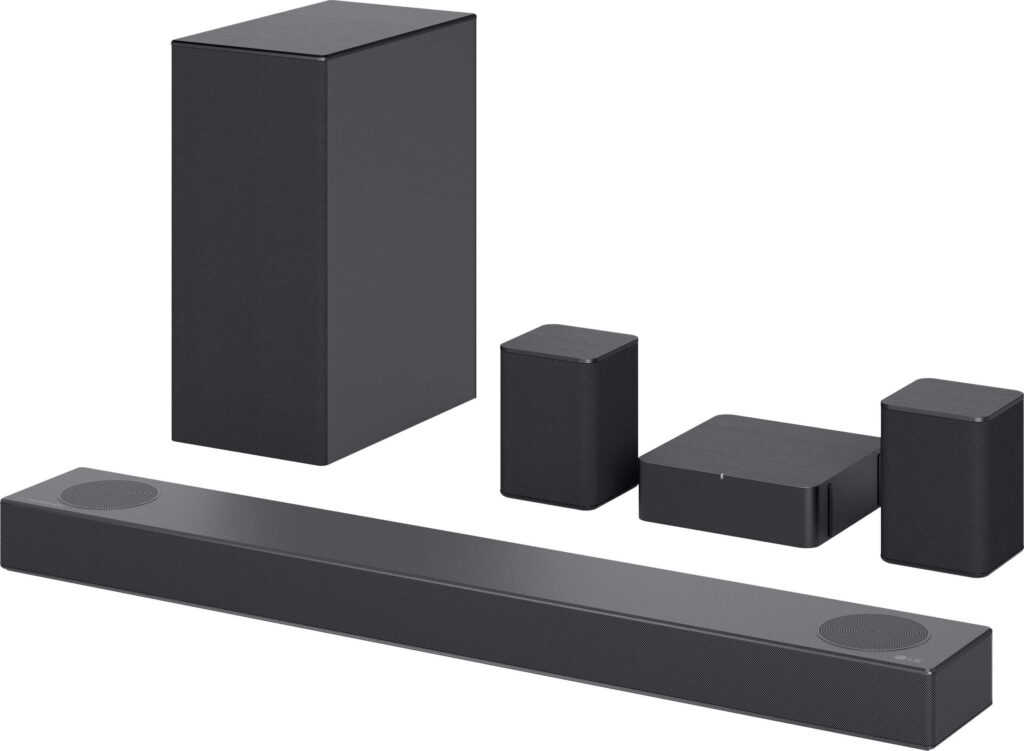 Ultimately, the choice between the LG SN7R and the Samsung HW-Q67CT depends on your specific requirements and preferences that we have discussed above. 
For a more budget-friendly option without compromising on quality, the LG SN7R is an excellent choice. 
However, if you seek cutting-edge technology and a premium design, the Samsung HW-Q67CT is worth considering. But as a personal suggestion, I would like you to go with the LG SN7R Soundbar because of its next-level working at a very reasonable price.
Frequently Asked Questions:
Can I wall-mount the LG SN7R and the Samsung HW-Q67CT?
Both soundbars come with wall-mounting provisions, allowing you to optimize your space and achieve a sleek setup.
Can LG SN7R And Samsung HW-Q67CT Soundbars Be Connected To Smart TV?
Yes, the LG SN7R and the Samsung HW-Q67CT are designed to be compatible with most smart TVs, ensuring a hassle-free connection.
Do LG SN7R And Samsung HW-Q67CT Come With A Remote Control?
Of course, You'll get the remote from the cartoon of each soundbar. And Both LG and Samsung soundbars are packaged with convenient remote controls for easy operation.
Can We stream music wirelessly to LG SN7R And Samsung HW-Q67CT soundbars?
Absolutely! LG SN7R And Samsung HW-Q67CT soundbars support wireless streaming via Bluetooth, so you can enjoy your favorite music effortlessly. You can also connect the soundbars to the Wi-Fi for further wireless connections.
Heading Towards The End:
In conclusion, the LG SN7R and the Samsung HW-Q67CT are both exceptional soundbars that offer immersive audio experiences. 
But if I give you my personal opinion, then  LG's SN7R is the best choice to make because it provides an attractive combination of quality and affordability at a reasonable price. 
So, What are you waiting for? Elevate the sound experience of your sound system and enjoy the astonishingly high clear sound during your broadcasting.