If you're contemplating between the Vizio V Series SoundBar and M Series Sound Bar, I can help. As an audio enthusiast with first-hand experience with both sound bars, they offer distinct features catering to different audio needs. The V Series is an excellent budget-friendly option with impressive performance. Meanwhile, the M Series stands out with its immersive Dolby Atmos feature and generally caters to a more discerning audio palate.
Detailed Features of Vizio M Series Sound Bar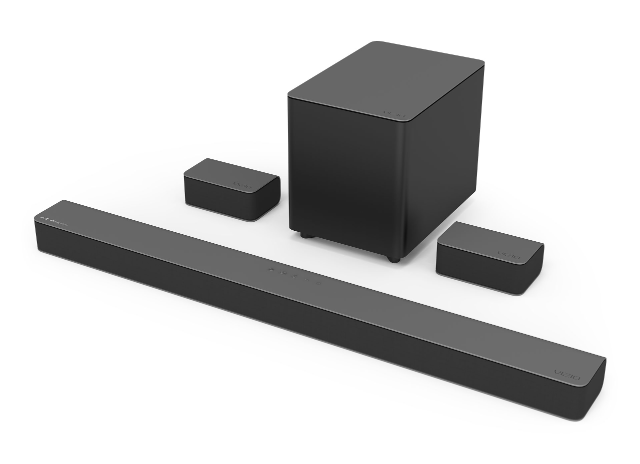 The Vizio M Series Sound Bar sets the standard for immersive in-home audio. 
1.Dolby Atmos:
As an audio enthusiast, I can't overstate the impact of Dolby Atmos. This remarkable technology adds an overhead dimension to the sound, creating a sense of space and depth that traditional sound systems can't achieve.
It's akin to bringing a cinema-grade audio experience to your living room. With Dolby Atmos, the helicopter you hear in a movie will seem like it's passing overhead rather than merely zipping from left to right or front to back.
2.DTS Virtual:X:
This feature provides a rich and immersive audio experience even from single-channel sources. It adds room-filling, 3D sound to movies or songs, enhancing your enjoyment.
Unlike some other sound enhancement technologies, DTS Virtual:X doesn't require encoded content. It works with your stereo audio to create a virtual surround sound experience, making it sound like the audio comes from different parts of the room.
3.Wi-Fi Enabled:
The Wi-Fi capability on the M Series offers convenience and quality. Unlike Bluetooth, Wi-Fi maintains the quality of your audio signal, which means you enjoy high-resolution audio without worrying about a signal drop or compromise in sound quality.
It also allows for easy integration with your smart home system, letting you control your soundbar using your smartphone or smart speaker.
4.Chromecast Built-in:
This feature expands your music sources to nearly limitless possibilities. With Chromecast built-in, you can stream your special tunes, podcasts, or radio from compatible audio apps you've installed on your smartphone, tablet, or computer.
Whether you're into Spotify, Pandora, Google Play Music, or others, casting them to your soundbar is as easy as a tap.
4. Types of Connections:
Flexibility is a hallmark of the Vizio M Series, which offers multiple connectivity options to cater to your diverse entertainment needs. 
These connections include the Wireless Bluetooth connection, Wi-fi connectivity is also possible, and you can be made optical and HDMI connections also with this Vizio M Series.
Now, you can seamlessly connect your devices and enjoy a seamless audio experience.
5.Voice Assist Compatible:
In an increasingly interconnected world, the M Series keeps up by being compatible with Google Assistant and Siri.
This means you can control your sound bar with just your voice, making for a hands-free and seamless audio experience. Want to lower the volume? Just say the word.
6. Price Range of the Vizio M Series:
Despite its high-end features, the Vizio M Series remains competitively priced, making it an excellent investment for those seeking top-tier sound quality.
Detailed Features of Vizio V Series Sound Bar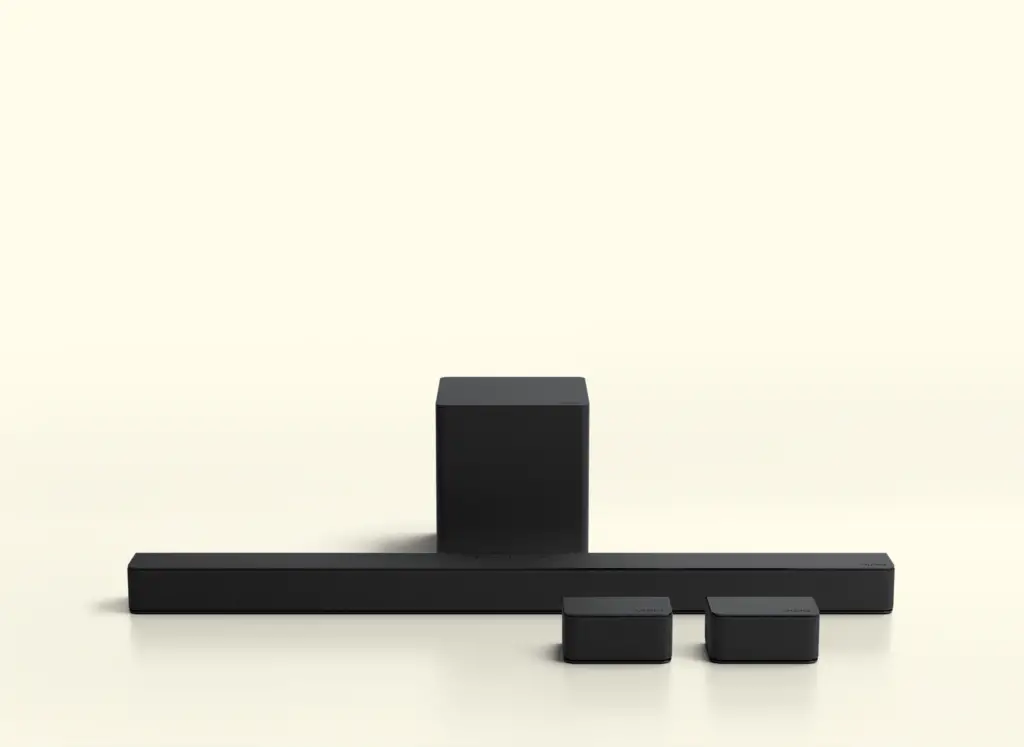 The Vizio V Series Sound Bar represents a perfect blend of performance and value, making it an attractive choice for budget-conscious users.
1.DTS Virtual:X:
Like the M Series, the V Series is equipped with DTS Virtual:X.
This technology enhances the spatial detail of your audio, adding a surround sound effect. DTS Virtual:X gives you an immersive listening experience regardless of your room's acoustics.
This means that even without multiple speakers set up around your room, you get a semblance of multi-dimensional sound.
2.Bluetooth Enabled:
The V Series features Bluetooth connectivity, a widely used technology for wirelessly streaming audio.
This feature lets you connect your smartphone or tablet to the soundbar and stream your favorite songs or podcasts.
Bluetooth connectivity allows you to control your audio content from anywhere in the room without requiring the direct line of sight that traditional infrared remotes require.
3.Easy Installation:
The V Series comes with everything you need to set it up. It includes all necessary cables and a user-friendly manual to guide you through the process.
This soundbar is designed to be user-friendly, and that extends to its installation. As someone who's installed several soundbars, I appreciate when the process is straightforward and hassle-free, which is exactly what you get with the V Series.
4.Voice Assist Compatible:
The V Series is also voice assist compatible. It works with Google Assistant, Siri, and even Alexa. This means that you can control the soundbar and
 Change settings using just your voice. This feature proves very useful, especially when your hands are tied, and you want to mute the sound or change the volume quickly.
5.Sound Modes:
The V Series soundbar has different sound modes you can select depending on what you're watching or listening to.
These include Movie Mode for a cinema-like experience, Music Mode for enhanced music clarity, and Game Mode for an optimal game sound experience. It's like having customized audio settings for different activities at the press of a button.
Overall, both the Vizio M Series and V Series soundbars offer robust features for enhancing your audio experience at home. Your final choice largely depends on your budget, specific needs, and personal preferences.
6. Price Range Of Vizio V Series:
The V Series is known for its affordable price range, making it an attractive choice for budget-conscious audio enthusiasts. Depending on the model of the Vizio series, the price ranges. You can buy any of the models that suit you best.
Differences Between Vizio V Series Sound Bar vs. M Series Sound Bar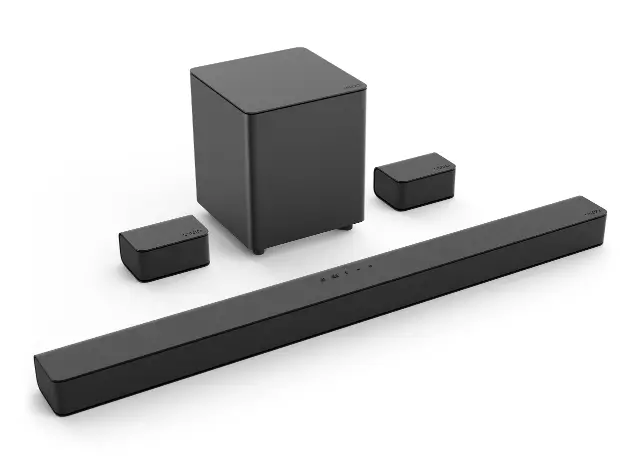 | | | |
| --- | --- | --- |
|   | Vizio V Series | Vizio M Series |
| Dolby Atmos | No | Yes |
| DTS Virtual:X | Yes | Yes |
| Wi-Fi Enabled | No | Yes |
| Chromecast Built-in | No | Yes |
| Bluetooth Enabled | Yes | Yes |
| Voice Assist Compatible | Yes (Google Assistant, Siri, Alexa) | Yes (Google Assistant, Siri) |
Vizio V Series VS Vizio M Series – Our Recommendations!
Both the Vizio V Series and M Series offer outstanding audio performance, but their differences lie in the nuances:
The V Series is more budget-friendly, making it an ideal choice for those looking for excellent audio at an affordable price. And on the other hand, The M Series, with its extended audio frequency range and advanced features, caters to audiophiles and enthusiasts seeking a premium audio experience.
So, we suggest you get the M series and have a next-level sound experience with a bunch of the latest functionalities. Furthermore, the longevity of the Vizio M series is promised, which makes it more worth taking. 
Now I would like you to give some best editions of both the Vizio V series and the Vizio M series so that you can make a purchase of the right soundbar at a reasonable price.
Frequently Asked Questions
Is Vizio M Series Sound Bar Better Than V Series Sound Bar?
Whether the M Series is better than the V Series depends on your specific needs. The M Series offers premium features like Dolby Atmos and Wi-Fi connectivity, making it a better choice for audio enthusiasts seeking an immersive listening experience.
However, the V Series offers excellent value for cash and is perfect for those who want reliable performance on a budget.
Can I wall-mount the Vizio V and M Series Soundbars?
 Yes, both series come with wall-mounting options for a clutter-free setup. You can set them in the style you want. Their sleek and lavish body will increase the beauty of your home theater system also. So, it's up to you.
Are Vizio V Series And M Series Soundbars compatible with smart assistants like Alexa or Google Assistant?
Yes, Of-course, the V and M Series of Vizio soundbars are definitely equipped with smart assistant compatibility, enabling hands-free control. You can check their settings and can connect them with all the AI systems easily.
What is the warranty coverage for Vizio soundbars?
Vizio offers a standard warranty on its soundbars, ensuring peace of mind for your purchase. You can check this before buying the product on the user manual script. Mostly they offer one year guarantee but as we said, it depends on that specific model.
Conclusion
When deciding between the Vizio V Series and M Series sound bars, it comes down to your specific needs and budget. The V Series is a fantastic choice if you're seeking a budget-friendly option with reliable performance.
However, the M Series is worth considering if you're after an immersive audio experience with smart features like Dolby Atmos and Wi-Fi connectivity. Both sound bars offer excellent value in their respective categories. As a sound enthusiast who has tried both, I am confident you'll be pleased with either choice.