Enjoying the loudest sound of your favourite show on the Vizio soundbar can be gloomy when you don't get a remote from the package, Or the remote stops working, Or maybe it's lost.
In this scenario, Don't get panic! We've compiled some methods to change the settings of the Vizio soundbar without a remote!
I have put down the short steps here, But for a proper understanding of these setups, Hang in there!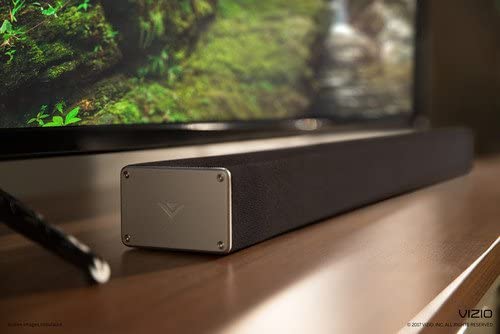 Using multiple buttons inserted over the Vizio Soundbar
Basics without remote – Several keys will work as remote now!
If your soundbar's remote isn't finding, then you can take notice of the Buttons inserted on the Vizio Soundbar providing the same results as that of a remote. So, there'll be no need for a specific clicker anymore!
You can turn On/Off the soundbar by pressing the "Power button" inserted here.
Pressing the Input button on the Vizio soundbar will stop the auto-detect feature.
For Bluetooth connection, Hold the bluetooth button and search the pairing list.
To increase and decrease the volume, There are (+) and (-) keys, respectively.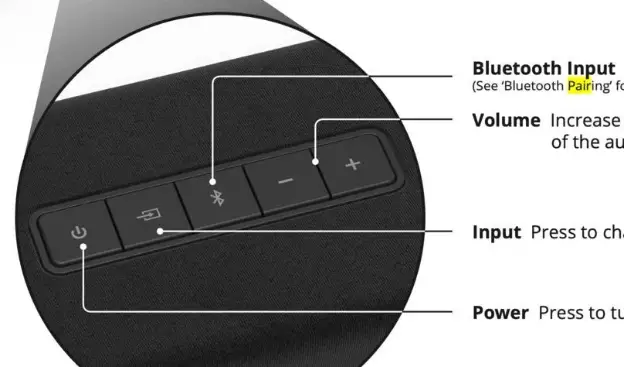 | | | |
| --- | --- | --- |
| Functions | Buttons | Time |
| Factory Restart Setup | Bluetooth & Volume Down. | Hold these buttons for 5 seconds |
|  Energy star/ Eco-mode. | Power & Volume Down | Press for 5 secs to turn up this mode. |
| Enable/disable the Vizio TV remote. | Power & Volume Up | Hold these keys for upto 5 seconds. |
So that's how without a remote, You can use the buttons of the soundbar to perform several tasks.  Now, We're going to share some details of these major fluctuations you can control through the button combination.
Enable Vizio TV Remote control  – For minor settings
This process will definitely help you to make some changes like Powering On and Changing Volumes of the Vizio Soundbar without having the remote.
All you have to do is, Hold and Press the "Power" and "Volume- Up" buttons for five seconds. And wala! Increasing/Decreasing the volume and turning off/on the Vizio soundbar is much easy, even without its separate remote. 
Didn't have the Vizio TV?
Don't worry! Check the easiest methods shared below for all the TV/LEDs.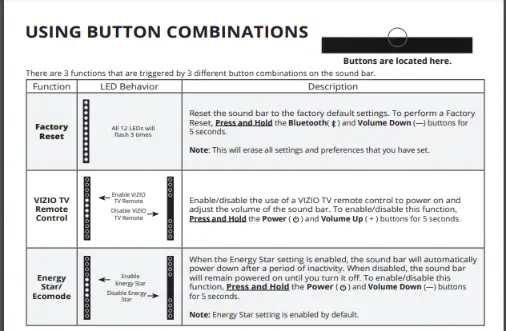 Factory Restart Set-up (Very simple with the Soundbar's Buttons)
Without a Vizio Soundbar Remote, if you want to remove all the managed settings and preferences, Then press "Bluetooth and Volume Down keys" on the soundbar simultaneously for almost 5 seconds.
That's how you can restart your soundbar without its remote!
Energy Star/ Eco-Mode- (Too easy to alter without remote)
As we know, this factor acts as an energy-saving mode. To fluctuate it without the Vizio Soundbar Remote, Press the "Power button" and the "Volume Down button" for 5 seconds.
This feature is enabled by default, but in case you want to change the setting without a remote, Use these keys simultaneously.
See how cool these combinations of buttons are!
Now let's talk about some other factors which will also be very beneficial in changing the settings and controlling the Vizio soundbar without a remote.
Use Mobile as a Soundbar's Remote.
Control the Vizio soundbar via Mobile Apps- (SamartCast & Google Home).
Vizio is one of the most famous and #1 traded companies in America, which has an extreme level of fame through its high-quality work and products. They have a proper management system physically and digitally through online services.
This application can be downloaded simply from Google PlayStore. So, Go and explore this amazing application for your soundbar.
Change the Settings of Soundbar through Chromecast– An advanced Feature of Mobile.
Your palm-sized Mobile has numerous incredible features that you don't know.  Likewise, you can control Vizio Soundbar through your mobile phone by advance technology.
All you have to do is, Connect your Vizio Soundbar to the mobile/TV via the Chromecast– A built-in technology to amuse the audience via streaming from mobile and apps on your laptop, mobile, pc, and tablets.
You can link the "Chromecast voice remote" to your soundbar or the TV receiver through suitable HDMI cords or Bluetooth and even through Wi-Fi.
Isn't it a great way to enjoy controlling and changing the setting of Soundbars even without their remotes?
Utilize your TV Remote to Control Soundbar.
There's another option to alter the soundbar's settings and control it when you don't have its remote at the moment.
Connecting the Vizio Soundbar with your TV/LEDs with the ARC-HDMI cord will automate the CEC (Consumer Electronic Control) performance. This feature is upgraded specifically to control the devices through one remote only.
But sometimes, you have to adjust your TV settings to allow the CEC feature to control the external speaker. This can be done simply by "Menu on your device." That's how you can control both gadgets via one remote.
We will also share a YouTube video of "Connecting the sound bar with the TV remote" for visual understanding.
So, Let's say bye-bye to the Sound bar's remote now!
Finale Thoughts.
Changing the settings and connecting your soundbar without its remote is much easier now because of many solutions.
Although we've discussed many factors, which somehow depend on the combinations of keys on the soundbar or the online appearance like the Vizio mobile app.
Take a look there and apply the suitable method you're searching for!