Are You Looking for the complete working details of the LG las454b soundbar? If Yes, Then Chill Out! Because I've been using this soundbar for 3 months after analyzing so many other soundbars.
And guess what? I'm finding it the right choice I've ever made. Let me tell you why!
LG Las454b Soundbar is a fantastic edition with a high resolution and so many latest functions and features.  You can have incredibly loud and clear sounds from this soundbar which will enhance the whole sound system.


But What makes this LG LAS454b soundbar different from other soundbars? Let's take the analysis with me!
Taking A Deep Analysis Of LG las454b Soundbars – Everything You Must Know!
Functions And Features Of The LG las454b Soundbar:
The LG las454b Soundbar comes equipped with an impressive array of functions and features like a 2.1 Channel Audio that needs only 300 Watts to enhance your audio setup. 
Its sleek design and compact build make it an ideal fit for any home entertainment system. 
Furthermore, Bluetooth multi-phone pairing, Music Curation, Dynamic Range Control, Auto Volume Leveler, Bluetooth Remote App (Android), and systems like Bluetooth Stand-Bymakes it a worthy and great piece of LG Soundbar system. 
Because of these systems, It boasts various audio technologies, ensuring a rich and immersive sound experience.
Multiple Connectivity Options Of The LG las454b With Multiple Devices:
Versatility is key with the LG las454b Soundbar. With a wide range of connectivity options, including a Wireless Active Subwoofer connection, HDMI, Optical Input, Bluetooth 4.0, and a USB connection. 
Wala! That is how You can seamlessly connect multiple devices and enjoy your favorite content without any hassle. 
Weight, Body, And Power Consumption Of LG las454b: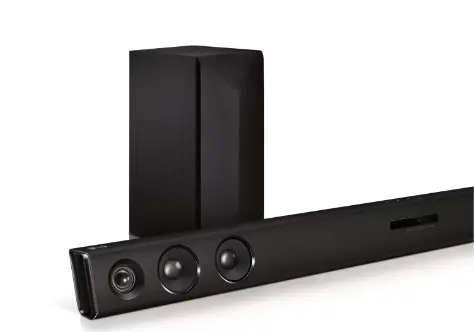 | | |
| --- | --- |
| Shipping Weight | 20.3 lbs |
| TV Matching | 40″ and above |
| Sound Bar (WxHxD) | 37.4″ x 2.8″ x 1.9″ |
| Soundbar Net Weight | 5.4 lbs |
| Shipping Size (WxHxD) | 41.1″ x 21.5″ x 8.5″ |
| Subwoofer Net Weight | 12.1 lbs |
| Subwoofer (WxHxD) | 6.7″ x 15.4″ x 10.3″ |
Such A Cost-Friendly Model Of The Soundbar:
Despite its exceptional features, the LG las454b Soundbar is priced competitively, making it a cost-friendly option for those seeking high-quality audio without breaking the bank. 
Keep in mind that the price of the soundbar varies from place to place.
And here you go! You've finally taken a deep analysis of the specs and features of the LG soundbar. Now let's move further with other terms and regulations that I love about This soundbar. 
Watch This YouTube video also to take a deep analysis of the sleek and lavish body of the LG LAS454B soundbar.
Sound Modes & Audio Modes Of LG las454b And Some Convenience:
This soundbar offers various sound modes and audio modes to tailor the audio output to your preferences. From Movie Mode for cinematic experiences to Music Mode for melodic bliss, it covers all bases. Additionally, its convenient remote control allows you to switch between modes effortlessly. Let me compile some of the best Sound modes and Audio Modes Of LG LAS454B.
Sound Modes Of The LG las454b:
| | |
| --- | --- |
| Cinema | Yes |
| Standard | Yes |
| Voice | Yes |
| Wireless Active Subwoofer | Yes |
| Bluetooth Streaming | Yes |
Audio Format Of LG Las454b Soundbar: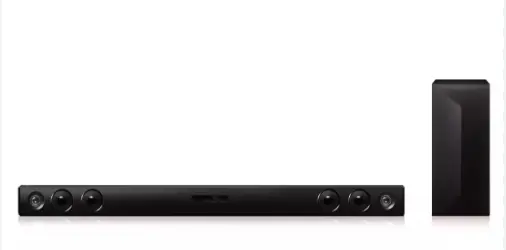 | | |
| --- | --- |
| LPCM | Yes |
| Dolby Digital | Yes |
| DTS Digital Surround | Yes |
So, these were some of the audio formats that you'll have in this soundbar. You can enable them easily by navigating in the settings and can equip them whenever you want. Now let's move further to the place from which I've made the purchase and recommend you all to do so.
From Where To Buy The LG las454b Soundbar? – Online Valid Platforms!
To purchase the LG las454b Soundbar, consider trusted online platforms known for their reliability and authenticity.
What Will You Get From The LG las454b Box? – Let's See All These Accessories!
Wall Mount Bracket and Hardware
User Manual and Quick Start Guide
These are the accessories and tiny things that you'll have inside the soundbar box. It is highly recommended that you guys make a purchase from the official store or from other sources.
Watch This YouTube video to get a visual review of the subject also.
Frequently Asked Questions
How Many Speakers Will We Have With The LG las454b Soundbar?
The LG las454b Soundbar features a 2.1-channel speaker configuration, comprising the soundbar itself and the included wireless subwoofer for a more immersive audio experience. Basically, you'll have two Front speakers, a Subwoofer, and a soundbar from this 2.1 Channel.
Is There Any Warranty Of The LG las454b Soundbar?
Yes, the LG las454b Soundbar typically comes with a standard manufacturer's warranty, offering you peace of mind in case of any defects or issues. You can have a limited warranty of 1 Year of Parts and Labor.
Can We Connect LG LAS454B Soundbar With The AI Systems?
Unfortunately, You can't make AI connections with the LG las454b soundbar. Because such advanced features aren't inserted in it. However, you can go with the Bluetooth connection to your mobile and TV in order to pair it up wirelessly. 
Summing Up The Discussion:
In conclusion,  The LG las454b Soundbar is a top-notch audio solution that combines high-quality sound, convenience, and affordability. Its impressive features and compatibility with multiple sound modes make it a standout choice.
So, Whether you're watching movies, listening to music, or enjoying TV shows, this LG soundbar delivers a great audio experience and is highly recommended.